30 September 2014
"Welcome to our latest newsletter.

We have had a busy summer here at CENSIS after moving to our new office earlier in the year. While I have been visiting as many of you as I can, my team and I have been developing several new projects, establishing our events progamme, and preparing to launch the Spokes; special interest groups with responsibilities for foresighting and identifying long-term opportunities in sensor and imaging systems.
I am very pleased to say our industry engagement events and clinics were fully booked earlier this month, and I look forward to seeing as many of you as possible at our first Technology Summit in October.
The new postgraduate degree, MSc in Sensor and Imaging Systems, begins later this month, with opportunities for industry to offer summer placement projects. Postgraduate students are full of great ideas, and able to apply the latest thinking to help your business succeed and prosper.
Whatever technical challenges you face in your business, pleasecontact us to discuss the ways in which we can help support innovation and new thinking in your company via partnership with academic research experts. You may have an idea you have been struggling with for a while, or an innovation that sits on the back burner waiting for a suitable moment to be developed. The time to develop is now to take advantage of the growth in the technology market, so bring your ideas along to our Clinics, or speak to us at events.
Don't forget to follow us on Twitter where we post surveys, technology and product development updates, and any other news we think will interest you."

Ian Reid, CENSIS CEO
---
News

---
New Staff
Recent appointments to the CENSIS team include Business Development Director, Dr Mark Begbie, and Technical Director, Derek Liddle, along with new project management, business development and marketing staff. Over the next quarter, engineering staff with expertise across our SIS stack will join us to complement these appointments and finalise the core team.   Read more about the CENSIS team.
Spokes are thematic areas of importance to sensor and imaging systems (SIS) technology. There are five current themes:
• Imaging and Optics
• Remote and Distributed Systems
• Advanced Devices and Fabrication
• Advanced Data Analysis and Visualisation
• Signal Processing, Communications and Networking
Spokes are communities of technical capability and research expertise, designed to deliver new academic-industry partnerships in their fields. Involvement in a Spoke provides interested parties with an opportunity to identify technology trends around which CENSIS may develop platforms for future projects. By forming a series of technology clusters around a Spoke, members will analyse opportunities for longer term investment in strategic research, and develop roadmaps for investment.
If you have not yet completed our short survey to identify which Spokes are most relevant to you, please take a few minutes to let us know your thoughts.
Find out more about becoming involved with the Spoke(s) of your choice at our Technology Summit on 7 October.
---
Projects & Project Clinics

---

Abstracts of some of our current projects are available from our website. Do take a look at the companies involved, and see what sorts of projects are eligible for funding. More projects will be announced soon.
If you have an idea to add to that list, why not contact our Business Development Team, or consider attending one of our Project Clinics? These sessions offer an informal way to discuss your ideas with CENSIS staff in confidence. Our next Clinic is scheduled for November in Glasgow, and registration will be open soon.
---
Events
---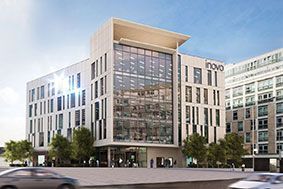 You can keep up-to-date with events as they are announced by bookmarking our page or following us on Twitter. Our events include workshops and meetings in a range of subjects relevant to sensor and imaging systems. We also list carefully selected external events of interest to the wider SIS community. New events for autumn 2014 include:
Centre for Defence Enterprise: Funding Competition & Networking: 30 Sept, Glasgow
The Centre for Defence Enterprise is the entry point for new science and technology providers to the defence sector. Co-sponsored by CENSIS, the event will announce three major funding calls for companies of any size interested in supplying defence and security markets.
Photonic Sensing the Environment: 1 Oct, Glasgow
Held in conjunction with SU2P, this workshop aims to identify challenges, discover innovative solutions, and provide new and inventive ways of living and adapting to our climate and the environmental challenges we will face in the future.
CENSIS Technical Summit: 7 Oct, Glasgow
Join us for our first annual technology symposium to register your interest in the Spokes, hear about challenges and opportunities in SIS, and find out more about state-of-the-art research in our partner institutions.
SICSA DEMOFest 2014: 30 October, Edinburgh
Save the date for Scotland's national showcase of informatics research for industry. This year's event focuses on the Innovation Centres Datalab, DHI-Scotland and CENSIS.
---
Keep in Touch

---
Our Twitter feed is busier than ever, bringing you news, innovations, and technology updates. Our website contains new project announcements, and you can register to receive our newsletter and other updates by completing the form on our home page.
---
A Final Note

---
Glasgow-based businesses: Opportunity to promote your companyIf your company is based in Glasgow or the West of Scotland, then Glasgow City of Science – an organisation promoting science and technology opportunities and expertise in Glasgow and the West of Scotland – wants to hear from you. Its 'Elevator Pitch' is designed to encourage companies to provide a short overview of their products or services. If this might apply to your organisation, please take a look at their guidelines for further information on how to submit your details.