24 July 2015 | Ian Reid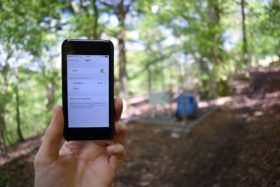 The results of this quiet revolution could have incredible consequences for many of the country's remote tourist attractions – TV White Space could connect them with the rest of the world for the first time, writes Ian Reid, Chief Executive of CENSIS:
We take for granted the connectivity we enjoy today – whether it's Wi-Fi in city centres or the ability to surf the internet with relative ease on our mobile devices. But, when you venture off the beaten track, that often ceases to be the case; most of the UK still only receives the lowest level of 3G coverage, according to Ofcom's latest available data.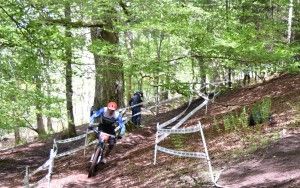 In a country with Scotland's topography, that can be a major challenge – particularly for tourist destinations, which tend to be in remote locations. If these areas could be covered in an unobtrusive and cost effective way, there could be real benefits for some of Scotland's most picturesque attractions, nearby businesses and local people.
A recent pilot project in Glentress forest – a remote and hilly terrain in Peeblesshire, typical of "adventure tourism" attractions – was an important milestone on the road to achieving this.
At this year's Enduro World Series mountain biking competition, a consortium of companies came together to bring an emerging networking approach, known as TV White Space (TVWS), to the event.
In a world where there is ever increasing demand for frequency spectrum resource, this method uses VHF/UHF channels, released by the analogue TV switch-off, to transmit internet traffic wirelessly over long distances.
This technology could offer an economically viable way of delivering connectivity to remote and inaccessible locations, without the need for licensing or the installation of extensive cabling. It also has the added benefit of being able to propagate through trees, meaning you don't require a direct line of sight for transmission – especially useful in forested and mountainous areas.
Working together, Scottish Enterprise, CENSIS, Boston Networks, Microsoft and IndigoVision were able to provide the event organiser, Tweedlove, with capabilities which were previously unavailable in this location. The project, based on pioneering work from The Centre for White Space Communications at the University of Strathclyde, allowed the event organisers to provide and make use of live video streaming, increased access to data and enhanced automation for its staff and spectators.
In practice, this meant Tweedlove could stream live video of the races to a nearby screen in Peebles town centre, provide live information and cut down on the need for manual data input and radio communications. This is great progress on what was available at the event last year. But, the real excitement is the potential that could be released if this connectivity is rolled out to attendees and the local area.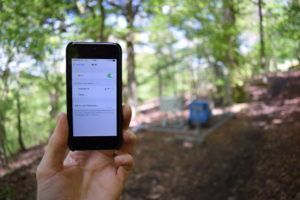 At many events, this could mean organisers, participants and visitors will be in a position to share their experiences in real-time on social media platforms – opening up a huge, hitherto untapped, audience for Scotland's remote regions and attractions. This could cement Scotland's place on the adventure tourism map and make it a top destination for young, tech-savvy sports enthusiasts.
There are obvious benefits for the companies involved too: this breakthrough for connectivity gives the project partners a unique opportunity to gain an early lead with technology, which is on the cusp of widespread adoption. Significant progress is now being made on introducing this technology across the world, in both mature and emerging markets, thanks in part to such demonstrator projects.
The Enduro World Series attracts more than 600 riders and 15,000 spectators – it's a huge opportunity to promote Scotland on the world stage. The project at Glentress has opened up this possibility and, with further adoption of TVWS technology; we could be looking at a revolution for Scottish tourism.
COMMENTS FROM OUR PARTNERS:
MICROSOFT
Jim Beveridge, Senior Director, International Technology Policy, Microsoft:
"Microsoft is right at the forefront of TV White Spaces technology because enabling high speed and low cost data in remote locations changes so many things not just in the UK, but around the world. We've successfully trialled it in everything from lifeboats to businesses and now in sport. It brings people together in a way that just wasn't possible five years ago and it has the potential to bring some of the superstars from the tournament direct to your mobile."
SCOTTISH ENTERPRISE
Moira Forsyth a Project Manager within the Innovation Directorate of Scottish Enterprise:
"TV White Space technology has the potential to provide a major boost for Scottish tourism.  Like many rural tourism businesses the majority of mountain biking locations have no or very poor connectivity – whether mobile or internet access. This lack of connectivity to stream live events also significantly limits the international viewing opportunities when Scotland hosts global events such as the Enduro World Series (EWS), which bring significant income into rural locations."
Read the Scottish Enterprise press release
BOSTON NETWORKS
Scott McEwan, Chief Executive, Boston Networks:
"We are delighted to lead the design, installation and commissioning of the TV White Space solution to support the EWS event, especially given the challenging terrain. Glentress is fairly remote and hilly, so designing and delivering a system that will enhance the visitor's experience, and that could have a transformational effect on both the event and the local area, is an exciting opportunity for us."
What was your role in the project?
Boston Networks were responsible for the design, deployment and commissioning of the TV White Space (TVWS) technology to create a wireless infrastructure in key locations throughout the Glentress Forest to support the Enduro World Series (EWS).   The result was the organisers had, for the first time ever, access to data connectivity and the ability to stream live video footage via IP CCTV technology.
Engineers and Project Managers from Boston Networks were onsite for the 2 weeks preceding the event to install and test the system. The team was also present during the event to provide technical support, if required.
Why did your organisation get involved?
As the UK is one of the first European countries to provide spectrum specifically for TVWSwe were keen to be involved with the development of this emerging technology.
We specialise in the design and delivery of Fixed and Wireless Networks and Security Solutions to support major outdoor events such as the Ryder Cup and Commonwealth Games. TVWS offers great potential to provide connectivity to outdoor events and rural communities, so we were keen to take a leading role in the design and deployment of these new pioneering applications.
What were the benefits of your involvement?
The Glentress trial provided us with an early, unique, and invaluable opportunity to design and develop TVWS Wireless and IP CCTV networks. Using our in-house expertise we designed, set-up and tested various scenarios, this aided our understanding of both the advantages and boundaries the technology could deliver, and has allowed us to identify potential new future applications.
What can your organisation do with the results?
This trial proved the effectiveness of the TV White Space concept in a densely forested mountainous rural area.  The experiences obtained during the trial will contribute to the further development of TV White Spaces. The results will help us to realise the feasibility and potential of TV White Space technology in difficult terrain, and to understand how it could successfully be used to support different market applications in commercial deployments, once made available.
What's next for you? Will you be developing the technology further?
Boston Networks would be keen to move forward and be involved in developing the technology further. Boston Networks would like to build on the knowledge gained to date utilising the TVWS and can see many opportunities using the near and non-line of sight capabilities of the TVWS which certainly opens potential avenues within rural communities, "last mile" connectivity, areas of RF saturation and sporting events.
INDIGOVISION
What was your role in the project?
To supply kit and facilitate the commissioning of the system alongside Boston Networks.  IndigoVision's Ultra 2K streamed Full Frame Rate, Full HD to a large screen and viewing clients at Peebles Green and also recorded remotely to a secure location nearby.
What were the benefits of your involvement?
To prove our Ultra 2K SMART.Core™ technology over whitespace – full frame rate, full HD streams over TV Whitespace. IndigoVision's Distributed Network Architecture was key in getting the most out of TV Whitespace technology.
What's next for you? Will you be developing the technology further?
As the Ultra 2K'S SMART.Core™ technology is already utilised and highly regarded throughout the CCTV industry we would look to continue to prove what more can be achieved (i.e. more cameras, higher resolution Ultra 4K) over whitespace as whitespace technology evolves.