19 August 2016
3rd CENSIS Technology Summit, 6 Oct 2016
Technology & Innovation Centre, Glasgow G1 1RD
Session 2: The Connected Community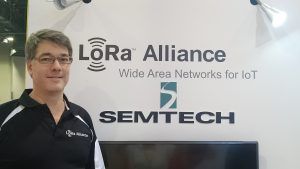 Our final speaker in the Connected Community session will be Richard Lansdowne who is Senior Director for Network Systems Solutions at Semtech. His presentation title is: "The elephant in the room: how the evolution of networks is enabling the Internet of Things".
Richard will take the audience on a journey into this new world of IoT connectivity. Beginning with a brief history of network architecture to set the scene, the presentation will move on to discuss some of the requirements for IoT, the different networks available and why they often complement – and don't compete – with one another. Richard will introduce his 'LoRa Law' and present a number of examples to show how IoT can positively impact our lives – in our cities, in the environment and in agriculture and food production. His overarching message is that significant cost and performance savings can be made by embracing IoT. The much anticipated revolution is here and all the technologies are available to make IoT a reality.
Richard is responsible for system solutions supporting Semtech's LoRa technology for IoT. This includes proof of concept support, trials and pilots, network servers, solutions, integration into cloud management platforms, gateway hardware reference designs, demo web servers, starter kits, partnerships, design support services. Richard is also involved in supporting the LoRaWAN ecosystem development and in particular the LoRa Alliance work.
Holding an MEng in Electronics, Signal Processing, Communications and Transmission from the University of Southampton, Richard held a number of design engineering roles with Phillips, Nokia and Ericsson before joining Semtech.
Further Information