2 September 2016
3rd CENSIS Technology Summit, 6 Oct 2016
Technology & Innovation Centre, Glasgow G1 1RD
Session 3: The Connected Business
Dr David Moodie is Lead Research Engineer at FMC Technologies, (now known as TechnipFMC), a global leader for the energy industry providing oil service equipment for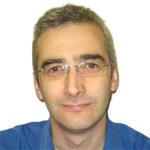 sophisticated systems and products such as subsea.
David has been with FMC Technologies since 2008. Originally part of the Eastern Region Technology Centre, he is now based in the Applied Sensing Technologies group working with Well Completion Systems. His role includes identifying and pursuing new sensing and monitoring technologies that complement FMC's core business areas.
Before joining FMC David worked at Optosci Ltd and was responsible for design and development of their range of optoelectronics instrumentation covering areas such as  optical communications  and distributed fibre sensing systems.
David holds a BEng and PhD in Electrical Engineering from the University of Strathclyde.
Tech Summit Presentation
'The digital seabed: Robotics and wireless technologies in subsea oil and gas applications'
David will examine and review wireless technologies in the oil and gas industry, focusing on  subsea applications and also look at  current and  future use of robotics technology subsea. The oil and gas industry has a history of employing robust well established technologies and a reputation for slow adoption of new technologies but opportunities for increased monitoring arise as the industry sees challenging conditions and changes in personnel.
Further Information