Technology and Innovation Centre, Glasgow G1 1RD
4.00-6.00pm
Abstract
Software and sensors are making the internet of things a practical reality,
opening up a wealth of business opportunities.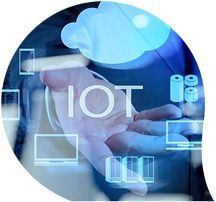 Discover how you can transform brilliant ideas into reality, and hear about the IoT activities CENSIS, Scotland's Innovation Centre for Sensor and Imaging Systems is involved in.
CENSIS is at the forefront of helping businesses to turn IoT concepts into reality, working with industrialists and researchers to collaborate at the leading edge of market-focused innovation, developing products and services for global markets.
Afterwards visit the CENSIS IoT Centre lab and demonstration suite to find out more. Come along to this ScotlandIS meeting to meet staff from both organisations, connect in to the CENSIS network and link in with the resources you need to drive IoT business growth in your company
About the Event
Mark Begbie, Business Development Director will explore the ways in which CENSIS can support companies interested in investing in IoT growth within their organisation.
Mark will introduce CENSIS' IoT Centre, located within its offices in Glasgow and designed to help companies, small and large, overcome some of the challenges they face in IoT product development. Delegates will find out more about the IoT Centre's services and facilities, including  access to the latest tools, to hot desk space and engineering support and mentoring. A number of examples will be given about the companies CENSIS has already worked with to help bring their IoT ideas to market.
A short case study on the deployment of LoRaWAN in Scotland, a Low Power Wide Area Network that supports low-cost, mobile, secure, bi-directional communication for IoT, smart city and industrial applications will be included. The LoRa testbed network, being rolled out across Scotland by CENSIS and its industry partners, is already installed in Glasgow and Inverness, and is enabling the development and evaluation of various business solutions around specific city needs.
Staff from CENSIS' team of in-house engineers will follow Mark's presentation with a demonstration aimed at showing just how quickly a sensor can be turned into a mini IoT solution.
CENSIS IoT Centre Tour
Guests are then invited to join CENSIS staff for a guided tour of their offices (situated next door to the TIC building where the event will be held). This will include the IoT Centre Demonstration suite and lab space where delegates will see further examples of IoT projects CENSIS currently supports.
Registration
For further details and to register for this event, please contact the ScotlandIS events team.