8 November 2016 | Censis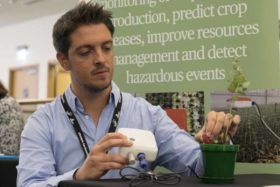 On 6 October 2016, delegates from industry, academia and the public attended the 3rd CENSIS Technology Summit and Conference in Glasgow.
The event has grown exponentially since the first summit was held in 2014 with fewer than 100 delegates. Growing to over 200 in 2015, this year almost 350 people attended.
With the theme of 'Sensing in the Connected World', speakers covered topics on the Connected Self and Wearable, the Connected Community and Connected Business.
Our Speakers
After a welcome and introduction from our Chairman, Bob Downes, Charles Joel of IBM started the day in style. Charles discussed how the fourth industrial revolution is with us and how a key enabler of this digital change has been attributed to IoT. Our afternoon Keynote was Mure Dickie of The Financial Times who discussed the perils and possibilities of technology in China and Japan.
Connected Self
Chaired by Sharon Moore of IBM, our speakers were Dr Richard Marshall of Gartner who discussed trends in wearables, Dr Sebastian Stein of the University of Glasgow who explored sensor-based systems in elderly residential care and Andrew Stirling of Microsoft.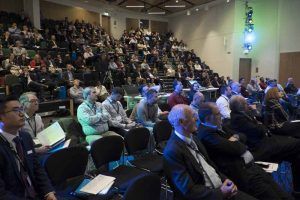 Connected Community
Session 2 was chaired by Prof Matthew Chalmers of the University of Glasgow and started with Andrew Rosie of SEPA who discussed regulating Scotland's environment in a changing world. Michael Groves of Topolytics and Prof Simon Dobson of the University of St Andrews teamed up to talk about sensing environmental risk and lastly Richard Lansdowne of Semtech talked about the elephant in the room: how the evolution of networks is enabling the Internet of Things.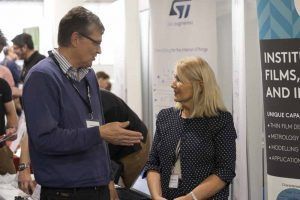 Connected Business
Craig Samuel of JT Group Ltd chaired our final session with presentations from  Dave Ross on the global agri-food sector, David Moodie of FMC Technologies on the digital seabed, robotics and wireless technologies in subsea oil and gas applications, and Andy Ward of Ubisense explored IoT in an automotive  manufacturing setting.
Panel Session
With such a wealth of knowledge and experience in the room, the panel session at the end of the day was lively, with delegates pitching questions throughout the day.
Our Exhibitors

Our exhibitors were challenged to showcase technologies connected to our theme.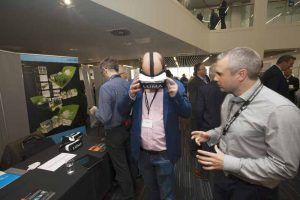 Analog Devices
Demonstrations included the BLIP (Low power imaging platform)
CW Applied Technology, Mint Tek Circuits & WIA
Demonstrated the steps taken to create an IoT device from an existing design of an 'unconnected' device explaining the process showing time spent, costs and learnings.
Gemalto and Honeywell
Gemalto demonstrated M2M Modules based on always-on cellular communications.  Honeywell displayed a wide range of sensors (pressure, humidity, flow etc)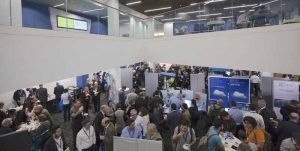 Heriot-Watt University (MISEC)
Demonstrated an on-line solid state sensor technology to directly measure the composition of complex mixtures of liquids/gases and provide real time data on composition within production flow lines.
Luma3D
Demonstrated Virtual Reality glasses and allowed delegates to immerse themselves in a range of different apps the company has designed.
Mothive
Demonstrated Precision Agriculture platform, showing devices collecting data and displaying this data in real time.
Edinburgh Napier University: School of Computing
Demonstrating a real testbed for a typical telecare application where capacitive touch sensors are used to assist elderly people and improve their wellbeing.
Neatebox
Demonstrated the use of a number of beacons eg to trigger the release of information (eg for tourists), for allowing users to register impairments (eg when they arrive at airports to alert customer service) and to assist users with impairments to cross the road (using a phone to trigger a pedestrian crossing)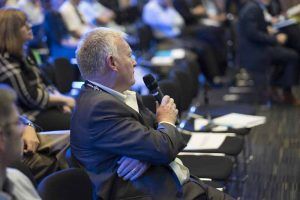 Pressure Profile Systems (PPS) UK
Demonstrated a range of innovative tactile pressure sensing devices, which can be used in in medical, wearable and industrial application areas.  Including flexible and industrial array products, pulse measurement sensor and FingerTPS product range.
ST Microelectronics
Demonstrated BTLE and WiFi solutions.
University of the West of Scotland (UWS) Institute of Thin Films, Sensors and Imaging
Demonstrated Novosound probes, i.e., low-cost, high resolution ultrasound probes, Multi Spectral Imaging to identify objects ranging from plankton in the ocean to diseased crops on an arable farm, and a large area Precision Optical Filter, Wafer and Visible Linear Variable Filter.
Wideblue
Demonstrated a connected personal medical device which accurately measures a patient's breathing pattern using a CO2 sensor and is useful with lung conditions.  Also exhibiting an advanced pipe scanner for use in the non-destructive testing industry and the new Impossible I-1 consumer camera with technology controlled from a phone.
Our Feedback
I think the session was a very good opportunity to learn from other people's problems and address questions which have no direct solution, therefore it was a very good problem solving workshop besides a conference.
The Summit has continued to improve over the las three years. Its great to see so many people in Scotland interested in sensors and sensor systems
 I have seen the numbers and speakers at the summit grow over the past two years. This indicates the growth in interest in sensors/IoT and the role that CENSIS is playing in developing and nurturing this ecosystem in Scotland and beyond. Well done CENSIS team for another great gathering.
I haven't heard so much positive comment about an event by fellow attendees afterwards – great event, good content and great set of delegates.
Great for networking and hearing market trends. 
This was arguably the best digital connectivity conference I've attended in several years. The mix of attendees was hugely refreshing and the speakers were all fantastic. Where papers were not immediately relevant to my work, they were nevertheless engaging and very interesting. I thoroughly enjoyed the event.
It was a great event and an excellent opportunity for networking and connecting the IoT community.
Great event – very interesting speakers, great networking buzz and extremely well organised and executed!!!
Really enjoyed the conference it was excellent and very well organised.
Future Events
To join CENSIS at future events, either keep an eye on our Events page or register for our email newsletter.