28 January 2017 | Konstantinos Englezopoulos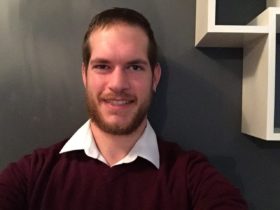 Konstantinos Englezopoulos (right), a graduate of the MSc in Sensor and Imaging Systems, discusses his year in Scotland, his MSc project – and a publication it lead to – plus his plans for the future.
Hi Konstantinos. Tell us a bit about yourself.
I'm from Athens, Greece and I'm a graduate of Electronics Engineering from the Piraeus University of Applied Sciences.
I'd applied, and was accepted to, other sensor systems courses in the UK but the joint CENSIS degree with Edinburgh and Glasgow stood out for me. It covered what I considered to be the most vital part in the "Sensor Systems Stack", the sensor element. It was easy to see from the list of modules that not only would I learn a lot, I'd get the chance to be taught at both universities. The bursary from CENSIS and the having my tuition fees paid was a big  bonus.
What was your experience of the course and what did you learn?
I gained a deeper understanding of sensing principles that previously I had been unfamiliar with. This is a multidisciplinary course, so there are academic experts covering everything from basic to very complex methods of sensing. It's given me a greater understanding of different systems and the confidence to tackle these new technologies in the work place.
I chose one module on 'Gravitational Wave Detection' which wasn't something I'd had a lot of experience in – Astrophysics is not my field, neither were lasers (interferometers) at that point – but I was curious. It was great to be studying in the department when, just two months after my module started, Gravitational Waves were detected and research staff at the University of Glasgow were involved. By the end of the taught programme I'd covered lots of other subjects – everything from radiation detection, to MEMS, biosensors and lab-on-a-chip devices.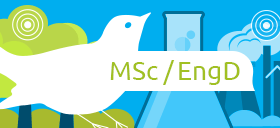 Tell us a bit about your project.

I had loads of choice. There were plenty of options in industry but I decided to do an academic project so I could experience and understand the challenges involved in developing a new sensor system.
In the same way that I'd selected challenging taught modules, I chose a project that was exciting and new to me. With the guidance of my supervisor, Dr Philip Hands at the University of Edinburgh, I developed an idea to evaluate the sensing capabilities for Microfluidic Chiral Nematic Liquid Crystal droplets. The project wasn't without its challenges but overall it went well and I'll soon be publishing some of the results in a peer-reviewed journal, with scope for future developments.
Where could your research go in the future? What are the applications?
Applications could be in microfluidic devices, as a sensing system alone, as a tuneable lasing mechanism, or of course those two combined. By giving a deeper understanding of the Liquid Crystal molecular arrangement within the droplet depending on the surrounding material and the droplet shape the research also adds to other already developed devices. In reality the range of applications and what can be sensed can become really broad as for example core-shell structures in such droplets is also under research as is also high repetition rate lasing. It is such a new field. It was great to have been part of it and who knows, maybe I'll return to do a PhD in this field one day.
What are your plans for the future?
I want to work in industry and be part of a team designing innovative devices. Having seen the challenges of developing a new sensor system I'd like to bring my EEE background in as well as focus on the rest of the 'SIS stack' and get experience in complex problem solving. In a few years' time, I'd hope I'd have the right skills to lead an engineering team.
Would you recommend the MSc to others?
Yes. This is the course for you if want to gain a broad understanding of sensing and systems. You will be guided by experts all along the way, expanding into unknown fields and changing your perception of modern research. You'll also have a good range of industry and academic projects to choose from.
Finally, tell us a bit about living in Scotland. What's the best thing about living here?
Scotland is magnificent and contrary to popular opinion, the sun even shines here! The course gives you a chance to live in Glasgow and Edinburgh; a rare opportunity. They are very different cities and I enjoyed both but in the interests of diplomacy I won't say which one I prefer!
Scottish people are really friendly and both cities are multicultural without missing the feeling that you are in Scotland.  There are plenty of university societies to join and countless places to visit. Edinburgh's Fringe festival is a fantastic experience and after a year in Scotland I have developed a new passion – single malt whisky.
Thanks Konstantinos. Is there anything else you want to tell us before we end?
There is a particular quote from Lord Kelvin, who is very closely tied with the University of Glasgow – "If you cannot measure it, you cannot improve it". You'll hear that quote quite a lot throughout the course and by the end of it, I hope it will be a part of you as it is for me.