31st May - 29th June 2017
Our new industry accelerator programme is now taking off
Applications open on Thursday 1 June, 2017
Closing date Thursday 29 June, 2017
Taking its inspiration from the acclaimed 2016 IoTUK Boost competition led by CENSIS and partners, this new programme led by CENSIS takes IoT development to a new level.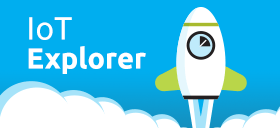 We are offering up to eight Scottish-based companies or individuals a package of co-ordinated growth support over several months to help them accelerate an IoT product or service into the market.
Who can apply?  IoT Explorer is open to:
Individuals with strong ideas and concepts – your company may not be trading yet, but you'll have a well-planned, clearly thought through idea for an IoT product or service.
Early stage companies with innovative plans to move in to the IoT space.
Mature companies who are changing their technology approach to IoT and looking for some external support.
Because of the way CENSIS is funded, we can only offer this package of support to organisations or individuals with a full-time base in Scotland.
What ideas are we looking for?
We welcome ideas that can be applied across any sector or market. These could include, but are not limited to:
Smart cities/future cities
Precision agriculture and farming
Energy use/energy efficiency
Facilities management and building monitoring
Healthcare, social care and/or assisted living
Smart transport
Manufacturing and/or Industry 4.0
Natural environment and environmental monitoring
What's on offer?
Winning companies receive:
Up to 20 days' support from CENSIS' highly skilled and industry-experienced engineering and project management teams at our Glasgow office over a maximum of six months (on non consecutive days). We will work with winners to tailor-make support packages.
Access to a hot-desk facility and meeting rooms at Tontine Glasgow, a newly developed, high spec incubator space in the heart of Glasgow (pre-booking required).
Introductions to range of partners involved in the support of IoT Explorer including technology providers, professional services and investors. This includes a networking evening at the mid-point of the programme with a chance to pitch your idea to a carefully selected audience and receive feedback.
Help with perfecting your investor pitch.
Entry to CENSIS' regular programme of hands-on IoT workshops and seminars led by leading industry experts. These events are popular and normally have waiting lists. Explorer winners will be given automatic entry.
IoT Explorer Launch Event
Winning companies will come together on Wednesday 23 August 2017 for the launch event to be held in Tontine Glasgow, where you'll be introduced to each other and meet the partners and people who'll be working with you over the coming months.
How do I apply?
We've tried to make the CENSIS IoT Explorer Application form as simple and straightforward as possible but if you've any questions you can drop us a line.
Key dates
Applications are now being accepted
The closing date for applications is Thursday 29 June, after which applications will be reviewed by CENSIS.
Winners will be notified by Friday 14 July.(We may want to have a short interview with you, via Skype, before making our final decision.)
Winners will be invited to a launch day on Wednesday 23 August.
Full details of the application process, including the review criteria, are in our Terms and Conditions which we will assume that, by returning your application form, you have read.
Good luck with your application. We can't wait to hear from you.