10 May 2017 | Ian Bain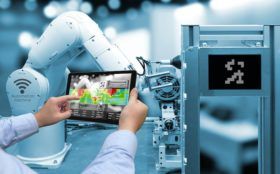 Ian Bain, MD of Sensor-Works takes a look at how condition monitoring is coming into its own as part of the technology renaissance in manufacturing. 
Plant operators can capture machine data to help to predict when machines will either fail or require maintenance. Wireless, automated online condition monitoring is the modern approach. One energy company monitored rotating equipment at a power generation plant, with operators manually taking as many 60,000 measurements per month. This manual approach resulted in inconsistent data due to human error or competing priorities. In addition, manual collection is costly. By adopting online condition monitoring tools, plants can continuously monitor the condition of equipment. They can also set up alarms that signal when equipment is stressed or needs attention.

Recently products have been introduced to help companies gain insight into the health of their equipment. With years of experience in condition monitoring, Sensor-Works has introduced a Bluetooth Low Energy wireless system, giving operators access to cost effective condition monitoring at lower cost than traditional wired solutions.
Plant operators can now cost-effectively monitor both critical and ancillary rotating machinery, offering a holistic view of their plant equipment. The solution involves data management, data analysis, and systems management challenges that are common in big analog data applications..
Condition monitoring is coming into its own as part of the technology renaissance in manufacturing. Plus, reductions in cost have made the technology available to a wider range of users. With trends such as the decreasing cost of sensors and higher performance ratio for price, we are seeing more adoption than we did in the past. Also, with the trend around big analog data, everyone is trying to solve the question of 'what do you do with the data?' In the past, people would only monitor critical parts and systems were disparate, but today there is a drive toward gaining more business value from condition monitoring.
The companies that are most motivated to solve this are the ones that have the highest risk. That includes consumer packaged goods, discrete manufacturing at high volumes, or companies doing process manufacturing where downtime costs millions of pounds.
Read more about Sensor-Works here
Read about the Sensor-Works project with CENSIS