6 November 2017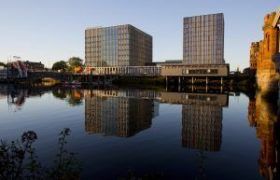 9th LoRaWAN gateway installed in partnership with City of Glasgow College
Glasgow's Internet of Things (IoT) network, the most advanced of its kind in the UK, has enhanced the quality and range of its coverage with the addition of a ninth gateway at the City of Glasgow College's new Riverside Campus on the south bank of the Clyde.
CENSIS will also begin working with the college's staff and students to help them use the new technology.
Announced at CENSIS's fourth annual Technology Summit at Glasgow's Royal Concert Hall of 2 November 2017, the extra gateway adds to the eight already placed around the central, west end, and northern areas of the city. It will extend coverage to Glasgow's south east and improve the consistency of connectivity for devices in the city centre, particularly those inside and under buildings.
Each gateway can connect as many as 10,000 devices within a radius of at least three miles in urban areas. The Glasgow network has already been used to monitor river levels, the capacity of public bins, and pollution levels in the city centre, with a host of other trials underway.
The College's Riverside Campus is the ideal location for the latest addition to the network, enhancing the city's existing coverage and extending it to the south east. It will also act as an important engagement point for us with the college's staff and students, giving them the best possible opportunity to use the IoT.
The news was shared by CENSIS Chairman Bob Downes in his opening remarks on the day day. The summit attracted hundreds of delegates from across industry and academia, and covered a range of topics that included the development of smart cities, cyber security, and the opportunities presented by IoT technologies and Industry 4.0.