Supporting Sellafield's Nuclear Decommissioning Mission
Technology & Innovation Centre, Glasgow G1 1RD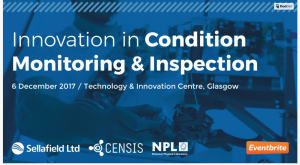 Along with partner organisations Innovus Game Changers and the National Physical Laboratory, CENSIS will host the fourth and final Game Changers challenge-led event for 2017. This is the first Game Changer event to be held in Scotland.
Register now (link goes to Eventbrite page).
Game Changers Explained
The decommissioning of the Sellafield site is anticipated to take over 100 years and cost in excess of £50bn. Decommissioning creates challenges never encountered before and requires investment in innovative technologies, concepts and methods. Proposals for 'Game Changers' are invited to reduce costs, reduce risk and make operations safer whilst accelerating the safe delivery of decommissioning.
The Game Changer Scheme welcomes your ideas. It's open to businesses of any size, academia and individuals, and there's a chance to win a £5K grant just to articulate your idea. If you're successful, additional Proof of Concept funding is available. All IP stays with the proposer and an NDA is provided, pre-signed, up front to this effect.
What is the Challenge?
The challenge for this event is on Innovation in Condition Monitoring and Inspection.
It will focus on the various cans, drums and mostly boxes (collectively known as 'packages') filled with various wastes and which are placed in secure stores above ground across the Sellafield site. Over the course of the next few decades, there could conceivably be more than 150,000 packages that will be sent to such stores.
The wastes could be dry, grouted (cement), water covered, heat generating, gas generating, vitrified or any combination of these, but in all cases, it is expected that some degree of corrosion of the packages will occur.
The stored waste packages could be in place for many decades and it is important that, during this period, we can confirm that the performance of the packages is as expected, demonstrating control. The behaviour of the waste itself is also of interest.
At present, the baseline position is to undertake monitoring by either:
Removing individual, suspect packages into a designated area where they are inspected manually. This is particularly time consuming and difficult.
Installing in-situ devices, the deployment of which is particularly difficult because of the complexity of the waste forms and the restrictive storage arrangements.
On the day
An agenda will be published soon. The keynote speaker will be Sellafield's Technical Lead (R&D) Steve Hepworth, with key staff from Sellafield and National Nuclear Laboratory also making presentations.
Delegates will also get the chance to give a short pitch about themselves and their business, and there will be plenty of time for networking and discussion. The event will also include some workshop sessions around particular technical challenges.
You'll also hear about how to access Game Changer funding and the team will be there to answer all your questions.
The final agenda has now been published.
Register
The event is free to attend and includes lunch and refreshments. For more information, and to secure your place on the day, please visit the Eventbrite page and sign up.