8 November 2017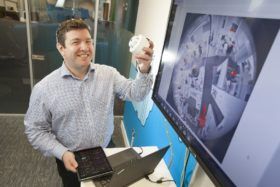 Beringar CEO discusses working with CENSIS
We asked Mark Sorsa-Leslie, CEO of property technology company Beringar, to present a case study of his collaborative project and his experience working with CENSIS at our Technology Summit on 2 November 2017.
Beringar's visit to the 2016 Tech Summit had been a memorable one and we wanted to tell the story of how these proptech entrepreneurs had – in the space of just one year and with some help from CENSIS – created a product that is set to revolutionise the way the NHS and other large organisations can manage their moveable assets and facilities.
Unfortunately for us, Beringar was invited to attend another summit on the same day as our event – but this one was in San Jose, California. The annual TC3 Summit is a two-day, working summit where the companies who build communications networks come to discover innovation. Beringar was invited to be part of a select group (just eight companies) attending as part of UK Department for International Trade delegation.
Before he left for the US, Mark was able to record a video telling Beringar's story. If you're inspired and would like to find out how CENSIS can help build your business, please get in touch.