13 November 2017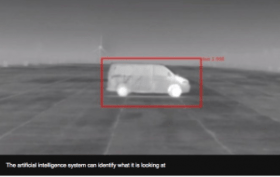 Research based on CENSIS project
Project begins Feb 2018
An opportunity has emerged to undertake a fully funded PhD project, based on research carried out jointly between CENSIS, Thales UK and the University of the West of Scotland (UWS).
About the research 
Read more about the early project supported by CENSIS, including the press release, and the BBC Scotland new story about the research and its potential.
About the PhD project
Deep learning has recently emerged as a game changer in computer vision applications. Convolutional neural networks (CNN) emulate the structure of the visual cortex to automatically detect and recognise small objects (ATD/ATR) with accuracies close to 100%.
CNNs automatically extract significant features from the data to enable ATD/ATR with such performance. This is carried out by training a complex network with massive amounts of data. Optimal definition of the network is application dependent, and new considered applications or types of objects will require re-training the network over new training sets.
The aim of this project is to better understand this process to enhance and optimize the performance of CNNs in an ATD/ATR context. Specifically, we will address dynamic definition of datasets and network layers to expedite training, and incremental definition of these CNNs to modularly perform different tasks (e.g. ATD or ATR).
Find out more and apply via the FindAPhD page.
Funding Notes
UWS is an inspiring, vibrant place to study with a growing research community; an important aspect of which is its outstanding and committed research students.
Successful candidates will receive an annual stipend (currently £14,553) per annum for three years and payment of tuition fees (current value £4200). Successful applicants will be expected to contribute up to 6 hours/week to UWS' academic related activities.