15 November 2017 | Ross Kerr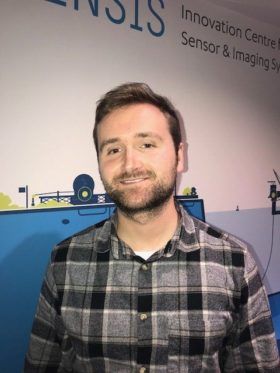 Ross Kerr, Research Intern at CENSIS, talks about IoT and his experience in the Smart Campus team at the CO.LAB event at The University of Glasgow in November 2017.
Big changes are happening at the University of Glasgow. The new campus expansion is the largest single project ever undertaken by the university with a total projected value of over £1bn. This brings enormous opportunities to develop a new campus space incorporating the latest advances in urban design and embedding the use of smart technology into the university and its community.   Of course, this brings challenges as to how to do this empathetically with the existing historical infrastructure and heritage.
CENSIS is the Innovation Centre for Sensors & Imaging Systems, hosted by the University of Glasgow, and is a key enabling partner in the development and implementation of new technologies for the "Internet of Things" (IoT).
IoT relates to a vast interconnection of electronical devices and computer hardware designed to facilitate the collection and exchange of data and internet resources. The incorporation of IoT has made a tremendous impact throughout the world and has led to the development of a wide range of technological advancements within job sectors and local communities, and at an international level. Examples include the development of smartphone technology and GPS tracking, both of which have led to significant benefits for the citizens of today.
CENSIS works with universities and industrial partners to develop new solutions for the Internet of Things. For example, we are working with a start-up company, Beringar, to develop a non-intrusive sensor for the National Health Service to improve its understanding of how buildings and movable assets such as trolleys and hospital beds are used. CENSIS is also leading the deployment of Low-Power Wide-Area networks, such as LoRaWAN™, throughout Scotland to enable the use of low cost, battery-powered IoT devices. One of the first coverage areas in the UK to have this new technology is the University of Glasgow campus. Devices powered by small batteries can last five to ten years with range of 3km in a city environment.
By using IoT technology and data science within a "Smart Campus" development, we can positively impact how the university is used, increase the efficiency of our buildings and common spaces, enrich the experience of the university community, improve staff and student health and well-being, and provide a "living lab" for our research community and a demonstrator for Future City best practice.
Here are some practical examples of smart campus technologies:
Sensor technologies could monitor C02 levels in lecture theatres and study areas, and automatically adjust ventilation to prevent drowsiness and create a more comfortable atmosphere.
Users of the library can identify the busy and quiet study areas of the building before they get there.
Facilities managers can monitor energy usage and efficiency of buildings leading to greener solutions.
Smart Campus will also embrace a more transparent research programme to provide students with the resources and environment they require to carry out their studies in an effective and collaborative manner.
University campuses overseas have also expressed keen interest in the development of smart campus technology, and its implementation here in Glasgow will serve as a key example for other cities to follow.
Of course, all advances in technology have obstacles to overcome. For example, how do we make sure that the technology we introduce is secure from cyber-attacks? How do we collect data in an ethical, consensual and trustworthy fashion? If personal data is collected then it requires the consent of the owner. How do we acquire that consent in a transparent fashion such that the owner understands how this will be used and how he/she may benefit from that use? How do we ensure privacy? Can we do the same job with anonymous or pseudo-anonymous data?
The introduction of the General Data Protection Act (GDPR) in May next year will re-define how businesses and organisations manage personal data. This will increase personal privacy protection with individual rights to access, rectify and erase any of their personal data and object to the processing of any information they are uncomfortable with. For organisations, GDPR will impose much stricter control over the storage of personal data and how it is used. Effective data governance, transparency, record keeping and reporting will become a legal requirement. Any non-compliance will incur significant penalties.
The CO.LAB event was a great opportunity to prototype and test IoT-enabled technology for the "Smart Campus" and other challenge areas. Here, student participants from all disciplines worked in a safe environment, under expert tuition, developing their own ideas and applications for the use of smart technologies within the university area. Not only is this a great chance to be creative and have fun, there may even be the prospect of influencing the future direction of the university campus and its impact upon the broader community.