28 November 2017 | Censis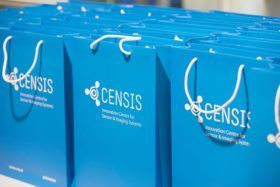 Again, what a day. THANK YOU to the sensors and imaging and IoT communities for attending in full force and creating a day that informed, inspired, challenged and sometimes amazed.
We heard from international organisations at the forefront of scaling-up and monetising digitally enabled sensor solutions. There were great case studies too, from Scottish-based companies, including early-phase SMEs who are creating new products and services with support from CENSIS.
Academic research was showcased, spanning cybersecurity challenges that might just keep you awake at night, to the latest theoretical work on sensor systems; yielding practical insights for real-world deployments of sensor networks.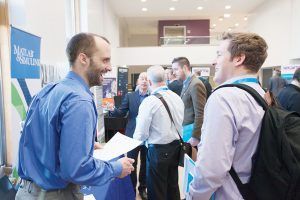 The President of the global IEEE Sensors Council, Prof Mike McShane, offered us a vision for closer collaboration with CENSIS on international academic-industrial engagement, while in the exhibition space, we saw demos of new technologies and products amongst the buzz of some intense networking.
Delegates came from business and academia, from the supply chain and end-user companies, from private and public and third-sector organisations, large and small.  Attendees hailed from all over Scotland and the rest of the UK and with the IEEE Sensors Conference also taking place in Glasgow in the same week, we were delighted to welcome a host of international delegates too.
If you didn't make it along, watch the video and read comments from some attendees. You can also browse photos from the day.
HIGHLIGHTS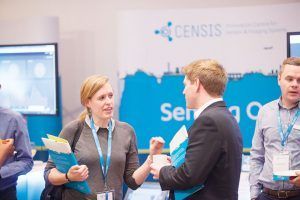 On the day, you:
Connected with almost 400 colleagues old and new
Heard 10 presentations from speakers from the UK, USA and Europe
Immersed yourself in the technology of 27 exhibitors
Tweeted so hard you made #CENSIS17 trend
Speakers? You listened and:
Applauded CENSIS client, Mark Sorsa-Leslie from Beringar, who spoke via video from a UK trade mission to Silicon Valley. CENSIS clients Thales UK and UWS, and FUELlink Systems also described their projects with us.
Were thoughtful on hearing the vision of Frank Frederiksen of u-blox on the long-term stability and scaleability of IoT.
Laughed with Professor Bill Buchanan of Edinburgh Napier University, who demonstrated the capabilities of interactive toys, teddy bears and dolls – but it got serious when you heard about some of the cyber security risks.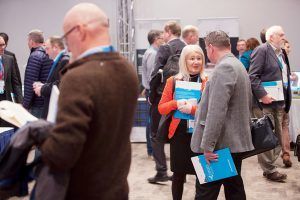 Exhibition? You were impressed by:
The Smart Mesh, Snap sensors, air quality particulate sensors and battery technologies demonstrated by Anglia and partners.
Edinburgh Napier University's approach to coping with multiple sensor networking and intelligent power management.
The speed and ease of Mathworks' ThingSpeak™ IoT analytic platform for connection and visualisation of devices.
Our thanks: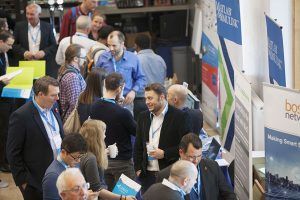 CENSIS would like to thank everyone who attended. Huge thanks to our sponsors Boston Networks and Anglia who attended with partners Advantech, Analog Devices, Honeywell, STMicroelectronics and VARTA Microbattery.
A special thank you to Ken Macdonald, Science Correspondent from BBC Scotland who chaired the day with professionalism and flair. And of course, our funders, Scottish Funding Council – thank you.
For the full list of Speakers and Exhibitors, have a look at our Agenda.
Here's a selection of views from delegates:
'I was impressed with the agenda and quality of topics. It was great to see such a dynamic technical industry in Scotland. I am already looking forward to next year.'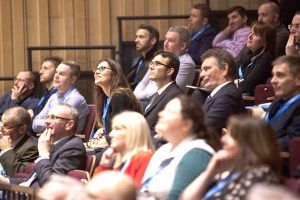 Barry Connor, Thales UK
'There were some great talks and I managed to make some great contacts.'
Steven Kendrick, SICSA
'Just a quick note to say well done today – the quality of people approaching our Smart Compliance stand was top notch. CENSIS is getting it right with IoT.'
Scott Wallace, Smart Compliance
'It was a great day and we were able to make contact with people that we wouldn't ordinarily get the chance to meet.'
John Ashley, FUELlink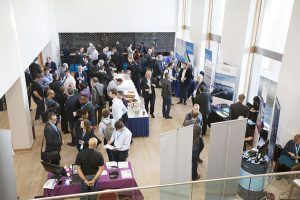 'The sessions were engaging and informative and the event presented plenty of opportunities. It genuinely was a fantastic event; the quality of attendees was very impressive.'
Audrey Schaeffer, Boston Networks
'Another fantastic show. The mix of attendees was once again of a very high standard as well as a higher footfall.'
Derek Stirling, Anglia
'Well done for growing your reach, it was a great event.'
Trias Gkikopoulos, Eageisystems
'Excellent event. We'll certainly want to come back again next year.'
John O'Connell, CW Applied Technology