6 December 2017 | Matt Costin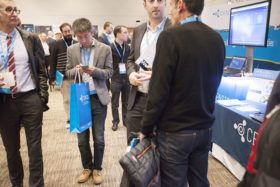 Matt Costin of MathWorks exhibited at our Tech Summit and Conference in the Glasgow Royal Concert Hall on 2 November 2017 and describes how MathWorks carried out a demonstration to measure movement and noise levels in the room.
The demonstration
Movement and Noise level measurements were analysed on the cloud.  The result provided a measure of the occupancy of the room and also the activity at the MathWorks stand.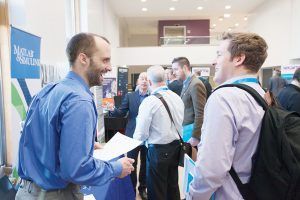 The set up
The set up was to show case the workflow from algorithm development, through prototyping to implementation of sensing and processing on edge nodes, with analysis on the cloud. In both cases, an algorithm to capture, pre-process data and send it to the ThingSpeak cloud based platform was written and tested in Simulink before generating C code to deploy to a Raspberry Pi.
The audio sensor was an BlueCoin from ST Microelectronics, (who were also exhibiting at the CENSIS Tech Summit), whilst for movement we measured optical flow from the onboard Raspberry Pi camera. On ThingSpeak, data was retimed and changes detected using MATLAB code hosted on the cloud based platform.
Results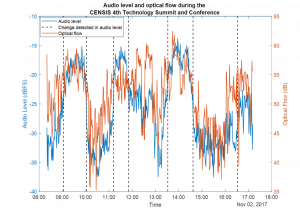 Results show a good correlation between the audio level and optical flow.
The changes in the audio level, shown with the black dashed line, are a good measure of the total occupancy in the room and align with the agenda for the day: high during break and networking sessions and low during the talks.
It also shows that some sessions ran a bit longer than planned; lots of questions following the talks perhaps.
The optical flow is a good measure of activity at the MathWorks table itself. Note the two peaks in optical flow between 1200 and 1300, when most delegates had left the room. Two sets of delegates came to visit during this time, giving a high optical flow, and explaining why the audio level does not drop to the level otherwise seen during talks when the room was empty (level at -25dBFS rather than -35dBFS).
Also of note is that after the last talks at the end of the day, people were drawn to the MathWorks table, despite the total room occupancy being lower (the drinks were in the other room!).