20 December 2017 | Mark Begbie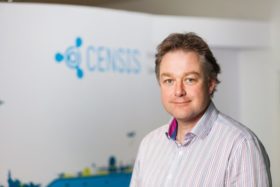 Mark Begbie, Business Development Director of CENSIS, talks about the cyber-physical domain.
Society is at the beginning of a new era, driven by ever-accelerating social and technological trends: a shift to high density urban living, artificial intelligence, smart infrastructure and the connected citizen.
At the core of this revolution are advances at the interface between data analytics and distributed digital infrastructure (the cyber-physical domain) that collects data and informs decisions. The impact will be similar to the emergence of the internet in the 1990s and is driven by rapid uptake of a new generation of Internet of Things (IoT) technology.
For the first time, very low-cost battery-powered devices are able to exchange information over long distances for many years. The first wave of IoT applications is having a profound impact on smart cities in areas as diverse as street lights that respond to need and report faults to improving energy efficiency and life conditions for the poorest in society by effectively targeting fuel poverty.
CENSIS is working at the forefront of this revolution, supporting Scottish companies to exploit these new technologies and create solutions of huge global market potential and societal benefit.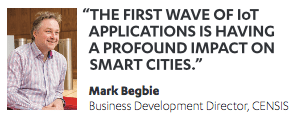 Cities are the engines of our economic future, but the IoT opportunity transcends these boundaries to encompass the whole country. This wide-ranging nature of the challenge demands we deliver seamless capability within, between and beyond our cities, to enable our cities to flourish and to be a true "IoT nation".
Scotland is well positioned, with the Scottish Government making a strategic commitment in March 2017 to national IoT coverage and putting delivery of this at the heart of the 2017-18 Programme for Government. CENSIS is featured on page 22 of the report –  Scotland: a nation with ambition
We can look forward to a future where companies, cities and citizens, across Scotland, can all benefit from the dawn of this new era.
@marklbegbie
@CENSIS121
CENSIS can help you fast track your IoT idea
If you need help to develop your IoT product, but don't know where to start, we can help.
Our specialised IoT Centre has engineering and project management teams to help take your connected devices idea to market. Contact us for a chat.