13 February 2018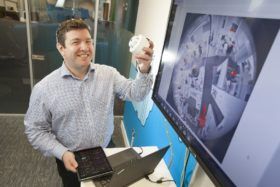 Scottish proptech company Beringar, has announced it has been selected to join the R/GA IoT Venture Studio, an accelerator programme delivered in partnership with Innovate UK.
R/GA Venture Studio supports companies that use IoT to create disruptive products and services. This year's cohort represent a mix of innovative start-ups covering everything from food packaging and fashion, to advertising and artificial intelligence.
CENSIS helped Beringar develop its signature product – a non-intrusive sensor that helps organisations such as the NHS understand how its buildings are used.
Beringar's service will be further developed with the support of the R/GA Venture Studio programme. Selected companies  have the chance to work with R/GA's strategic marketing, consulting, branding, design, and technology teams, as well as gain access to a network of clients, industry partners, global brand leaders, mentors, and investors.