22 February 2018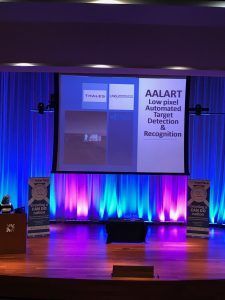 A project between CENSIS, Thales in Glasgow and the University
of the West of Scotland won a 'Special Commendation' in the Multiparty
Collaboration category at the 2018 Scottish Knowledge Exchange
Awards, announced on 22 February, in Edinburgh.
The awards, run by Interface, recognise, reward and celebrate impacts achieved through collaborative business and academic partnerships. The joint project – on low-pixel automatic target detection and recognition – has developed unique technology with the ability to recognise humans and vehicle types from up to 1500m using thermal imaging.
The Multiparty Collaboration award recognises partnerships that have demonstrated long term benefits to both the business and the academic teams. The other finalists in the category were:
European Lead Factory: University of Dundee European Screening Centre Newhouse, BioAscent Discovery, Pivot Park Screening Centre, Lygature, the University of Oxford (winners of the category)
e-frail: CM2000, Edinburgh Napier University
Scottish Enterprise Open Innovation Programme: Scottish Enterprise, University of Strathclyde, Subsea 7, Stena Line, Doosan Babcock, Weir Group, Royal Bank of Scotland, NHS, Glasgow City Council, City of Edinburgh Council, Devro, SP Energy Networks, NCR, Raytheon
Read more about the Thales project and the resulting press coverage.
The other award categories were:
Innovation of the Year: A product, process or service developed with a university, research institute or college partner, facilitated by Interface and SFC Innovation Voucher.
Building skills through Knowledge Exchange: Recognising final year undergrads, postgrads or KTP Associates who have worked within a business on a specific project to enhance innovation.
Social and Environmental Impact: A project that has produced significant social or environmental impacts contributing towards a fairer and more sustainable future.
Outstanding Contribution to Knowledge Exchange: An individual who has played a pivotal role in knowledge exchange in Scotland.
Read more about all the winners of the Scottish Knowledge Exchange Awards.