26 February 2018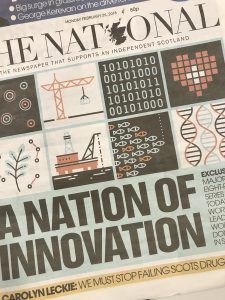 Scotland has long been a leader in many fields of science, engineering, technology and medicine.
Backed by the Scottish Government, with support from its enterprise agencies and universities, the £120m Innovation Centre programme is helping to ensure Scotland stays at the top of its game when it comes to accelerating technological advances.
On Monday 26 February, The National newspaper begins a major news series from journalist Greg Russell examining the work of the Innovation Centres and how they are helping to bring potentially life-changing ideas to fruition.
The series will run each Monday for eight weeks.
The series begins with CENSIS. You can read an interview with CENSIS CEO Ian Reid, plus case studies of our work: from protecting marine environments from tidal turbine collisions to our project with Scottish SME Beringar, a company that – with our help – has developed technology that turns any  building into a 'smart' building that is set to revolutionise the way NHS and other large organisations understand and use their fixed and moveable assets.
Read more online in The National.