3 April 2018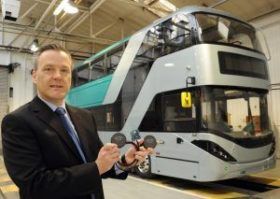 Bellshill-based fuel management firm, FUELlink Systems, has secured a landmark contract to install smart data collection devices on the latest environmentally friendly bio-gas buses in Nottingham.
The all new bio-gas buses have been fitted with the capability to integrate with an Internet of Things (IoT)-enabled device called 'VINIE', which FUELlink developed with support from the CENSIS IoT Centre.
VINIE is a small piece of equipment fitted to the dashboard of buses, allowing fleet operators to monitor and store a range of crucial datasets obtained directly from the vehicle's engine management computer, such as odometer readings and fuel usage which enable accurate and automatic reporting of data.
As a result of the contract, FUELlink expects to see a substantial uptake in the adoption of VINIE as more bus and coach operators see the benefit of using the device, either retrofitting it to existing fleets or choosing it as an optional add-on when building new buses. VINIE also allows operators to set miles per gallon targets, hours worked per litre, and can detect leakages in fuel tanks. As the whole system is automated and utilises Bluetooth to register bus details with a central system, fleets become more efficient and operators can save time on refuelling and other traditionally manual duties within depots. FUELlink hopes to capitalise on a wider increased demand from operators who want to grow their fleets and replace their older models with smarter, more efficient buses.
The inexpensive device was originally retrofitted to two operational buses as part of a trial with Nottingham City Transport (NCT), which has since resulted in an order of 23 new VINIE enabled bio-gas buses. An additional 30 NCT bio-gas buses will be retrofitted with the technology as part of the deal.
John Ashley, Director at FUELlink Systems, said:
"The way we've grown as a business is by listening to our customers and developing products which help them run their companies more efficiently. Working with transport operators, we recognised some of the pitfalls and challenges facing them on a daily basis and while we had a concept to address some of those challenges, it was by teaming up with CENSIS that we were able to develop VINIE.
"By demonstrating the proof of concept, we could pilot the product with a number of companies, showcasing the benefits of the device, and have since landed significant contracts, including Nottingham City Transport.
"At the moment, we're focused on introducing the product to local authorities, bus operators and haulage firms, but in the future, we hope to diversify and allow companies across industries to take advantage of VINIE's versatile data monitoring and storage capabilities."
FUELlink's other customers include Stirling Council and Leicestershire County Council; Lothian Buses, First Bus and hauliers WH Malcolm Ltd and Gist (UK) Ltd.
The business was one of five winners at the Scottish leg of IoTUK Boost in 2016, organised by Scottish Funding Council-backed CENSIS, The Data Lab, the University of Edinburgh's Informatics Ventures, and IoTUK.  After its success, FUELlink underwent a one-month period of incubation and mentoring at CENSIS's IoT Centre in Glasgow, where it worked on the product's development with CENSIS experts.
Craig Fleming, Senior Business Development Manager at CENSIS, said:
"The team at FUELlink used their sector experience and insight to come up with a new concept which, with the support from the team at CENSIS, has been developed into a product which can have an immediate benefit on the running of a large fleet. The contract with Nottingham City Transport will be instrumental in allowing them to showcase the benefits of VINIE onto bus and coach fleets across the UK and demonstrates the value in applying the IoT and sensor technology to business processes, allowing companies to run more efficiently."
Gary Mason from Nottingham City Transport, said:
"The increasingly important role IoT plays in the transport industry is well recognised and FUELlink's VINIE goes a long way to helping us take advantage of huge amounts of data. We see technology like this as instrumental in our drive to create ever-greater efficiencies, and having vehicles which are ready-made to adopt smart devices is the logical step forward to help facilitate this process."
Further Information