25 June 2018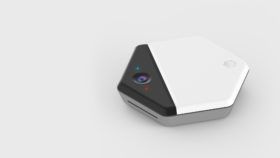 NHS gets connected with new IoT trial to track hospital beds
A Scottish hospital is working with CENSIS client Beringar, using IoT technology to monitor and track the whereabouts of its medical beds as part of a new initiative to automate bed maintenance, a traditionally manual process for much of the UK's healthcare estate.
In a bid to improve efficiency and maximise safety, NHS Highland's Caithness General Hospital in Wick is trialling a system developed by Beringar and CENSIS to easily locate beds and quickly access their maintenance records as they move around the facility.
Medical beds are high-tech pieces of equipment with various mechanical and hydraulic parts meaning it is vital that hospitals ensure regular maintenance checks are performed to protect patient safety. Caithness General Hospital maintains each of its 68 beds once a month. It is a significant administrative burden to manually keep track of and locate specific beds due for routine checkups, especially as they frequently move around wards. To enable staff to clearly see where beds are and when they were last examined, Beringar and CENSIS have together developed a state-of-the-art system which uses Bluetooth tags to transfer real-time data via the  low-power, wide area IoT network, LoRaWAN™. The tags can be attached to hospital beds, allowing them to share location and maintenance information with a dashboard monitored by NHS personnel.
The trial marks the second rolled out by Beringar for the NHS, after the company recently deployed its technology at Loxford Health Centre in Ilford, Essex, to monitor how rooms were used in the building.
Eric Green, Head of Estates at NHS Highland, said: "It's now more important than ever for the NHS to increase productivity and identify where it can make changes to enhance efficiency. Beringar's technology has allowed us to obtain immediate information on where our hospital beds are located. The Bluetooth tags and dashboard make it easy to find the bed we're looking for and access up-to-date maintenance records, enabling us to make smarter, more informed decisions.