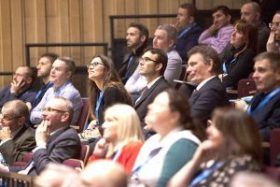 8 November 2018, Glasgow Royal Concert Hall, 9:00am-5:00pm
Register for the Electric Imp masterclass on 9 November 2018
Register now for our fifth Technology Summit, and explore with us the latest developments in sensing, imaging and the Internet of Things. Save the date and join us for a day of exhibition, discussion and debate.
Our Chair for the day is Melinda Matthews-Clarkson, CEO, CodeClan.
Speakers
Other presentations from:
What to expect 
Almost 400 delegates attended in 2017. Read our blog post to discover what you missed. Alternatively, watch the video or browse photos from the day.
Delegate feedback from 2017:
Who should attend
You'll get the most from the day if you are:
A company or organisation involved in imaging, sensor systems and/or IoT
A company or organisation that needs to use, or you're interested in accessing, sensing or IoT to  improve or grow your business.
An academic researcher or doctoral/postdoc researcher
Working in knowledge exchange or business development staff working in universities. The Summit is not aimed at university undergraduates.
Register
Registration is open on Eventbrite. CENSIS Technology Summit is free to attend, however a £99 + VAT charge may be levied should you fail to attend on the day and not notify the organisers. Cancellations should be confirmed in writing by 5:00pm on 1 November 2018. Please email sian.williams@censis.org.uk.
Exhibition Space (SOLD OUT)
Applications are open for our Exhibition Zone, designed for companies or university research groups with products, services or near to market technologies to showcase that fit with this year's theme.
Sponsorship 
Promote your brand and ensure your company is seen in front of industry influencers and policy decision makers.
Thank you to our sponsors: