11 July 2018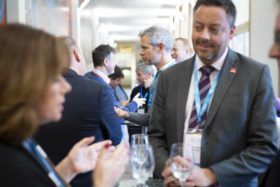 8 November 2018, Glasgow Royal Concert Hall, 9:00am – 5:00pm
Almost 400 delegates from industry, academia and the public sector attended our 4th Technology Summit in 2017, with over 60% of the delegates coming from industry. Build awareness of your company and your brand by taking advantage of sponsorship opportunities for our 5th Technology Summit on 8 November in Glasgow.
Sponsors confirmed so far are:
Anglia
Boston Networks
Fife Economy Partnership
Feedback from 2017's event was exceptional:
"I spoke with our team this morning and wanted to pass on our thanks, and to congratulate the CENSIS team on a fantastic and very well organised event. The whole day ran seamlessly. Feedback was that the sessions were engaging and informative and that the event presented plenty of opportunities for the team to engage with individuals. It genuinely was a fantastic event. The quality of attendees was very impressive."
Benefits of Sponsorship
Promote your brand to a growing audience of specialists.
– Exponential growth of event since 2014 – from <100 to 400 delegates in 2017.
Tap in to the full sensor and imaging systems and IoT supply chain in Scotland on a single day.
– Our event brings together technology developers, system integrators, end users, funders, suppliers and stakeholders.
Associate your brand with a high calibre event.
– Over 93% of those who answered the 2017 feedback form would attend another CENSIS Technology Summit.
Benefit from pre and post event PR and social media via CENSIS channels.
– CENSIS has over 2,5000 Twitter followers
Sponsorship Opportunities
Gold Sponsor £10K (Sold)
Silver Sponsor £4K (Sold)
Bronze Sponsor £2K + VAT (max 3 opportunities)
Sponsorship opportunities include exhibition space, an invitation to the networking dinner, banner and logo placements, programme adverts, email and social media advertising, and mentions in press releases.
Thank you to our current sponsors: