18 July 2018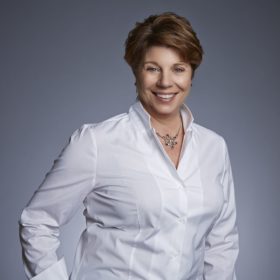 8 Nov 2018, Glasgow Royal Concert Hall, 9.00am – 5:00pm
We are delighted to announce that the Chair for the 5th CENSIS Technology Summit, will be Melinda Matthews-Clarkson, Chief Executive of CodeClan.
As CEO of CodeClan, Scotland's first Digital Skills Academy, Melinda is responsible for championing the growing digital sector by supporting and encouraging individuals into the world of software development. Her experience as a Global VP of Software Sales and Marketing for ISVs and Alliances at IBM, has given her an insight on how the world embraces technology for commercial and social success.
In addition to her BS degree in Sales and Marketing Education, she has certifications from UCLA Women in Leadership, Executive Coaching and Mentoring from Edinburgh Coaching Academy. She was recognised in the 'Top 100 Women' CRN Software Channel publication in 2014, 2015 and 2016. Melinda is experienced at leading diverse teams, at different stages of business maturity, with an emphasis of activating individuals to aspire to their dreams.
Melinda is an advocate for encouraging women in the workplace, establishing a Digital Women's Group at CodeClan, while also volunteering with Smart Works, a charity that focuses on assisting women back into the workforce.
CENSIS Tech Summit
Almost 400 delegates from industry, academia and the public sector attended our 4th Technology Summit in 2017. Don't miss out: register to join us for a day of discussion, debate, presentations, networking, exhibition and CENSIS case studies.