23 September 2018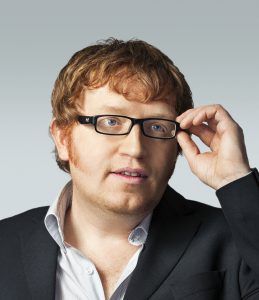 8 Nov 2018, Glasgow Royal Concert Hall, 9.00am – 5:00pm
Speaking at our 5th CENSIS Technology Summit will be Anthony Ashbrook, CEO, Machines with Vision.
Precise Low-Cost Vehicle Localisation 
Just as every fingerprint is unique to an individual, every point on a ground surface is unique to its location. This distinctive property can be measured and mapped. Machines with Vision's innovative technology uses this to enhance rail, robotics and self-driving cars.
A team of computer vision and robotics experts based in Scotland, Machines With Vision is supported by the UK Centre for Connected and Autonomous Vehicles (CCAV) and the Deutsche Bahn MindBox accelerator programme.
About the Speaker
Anthony Ashbrook is a technologist and serial entrepreneur with expertise in computer vision and machine learning and a drive for building and leading technology enabled companies. After completing his PhD and working as an academic researcher, he discovered a proficiency for taking leading edge research and applying it to real world problems in a commercial setting.
Partnering with a colleague, Dr Mark Wright, at the University of Edinburgh and securing initial funding, Anthony launched his first company, Mobile Acuity, in 2006. Mobile Acuity provides image recognition as-a-service for mobile app developers.
In 2016 Anthony, and co-founders Dr Tim Lukins and Dr Jan Wessnitzer, started Machines with Vision. Machines with Vision are developing very accurate positioning technology for transportation applications using very low-latency imaging devices known as Event Cameras.