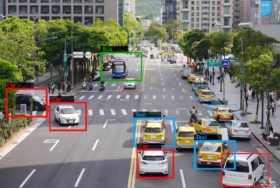 University of Stirling, 09:00-16:00
A DataFest19 Fringe event
Join CENSIS and the University of Stirling for a free, one-day showcase of modern visual information processing applied across areas as diverse as security, assisted living and medical imaging. The day includes live demos, 'ask the expert' sessions, short talks and the opportunity to discuss specific needs with computer vision experts.
Background
In recent years, the quantity of data collected from video, photos and satellite imagery has grown massively. With it have come great improvements in computer vision and machine learning that allow applications that were not possible a few years ago. Tasks such as object detection, face recognition or novel pattern detection are easier than ever to implement thanks to faster and cheaper computing that can perform at human levels in some tasks. These advances have brought the benefits of automation to some sectors but raised questions about privacy in a society under increasing surveillance.
About the event
This one-day workshop will showcase some of the cutting edge research within the University of Stirling's Vision and Image Processing (SVIP) group along with machine vision, sensing and IoT expertise offered by CENSIS.
The day will touch on topics such as surveillance and security, face recognition and analysis, multimedia processing for entertainment industries, real time vision system hardware, and automatic scene understanding.
Who is it for?
The event is for organisations of all sizes – industry and the public sector – interested in using computer vision to solve challenges in their environments.
About SVIP
The Vision and Image Processing group at the University of Stirling has particular strengths in image and signal processing, computer vision, text and language processing and visual perception. Application areas of interest include object recognition, scene understanding, surveillance and security, face recognition, media forensics, activity recognition, medical image processing, assisted living, embedded hardware development, blockchain and many more.
Further Information
The event is part of the DataFest19 Fringe series. It is free to attend and registration is open; visit the Eventbrite page to register.