6 March 2019 | Heidi Stephens Metz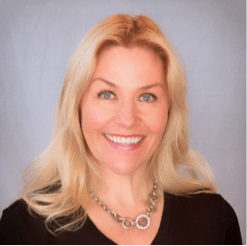 Heidi Stephens Metz, founder and CEO of Imani, a mobile payment system that makes it possible to offer low-cost services to people without bank accounts – the company's initial focus is in Sub-Saharan Africa – give us an overview of blockchain technology and the impact it's going to have on business around the world.
Blockchain, a technology that was generally unheard of previously, is one of the top emerging technologies revolutionizing today's business models.
Fundamentally, blockchain enables participants to exchange value without the need for intermediaries. According to Gartner, blockchain's value-add to business will exceed $3.1 trillion by 2030. Although not every business will or should embrace blockchain, the process of disruption is well underway in several sectors, and I believe is the way of the future for a breadth of industries. I also believe blockchain can be used to tackle some of humanity's hardest issues like poverty and income discrepancy through implementing some of the industry examples outlined below.
Blockchain is a distributed ledger that tracks transactions originally developed as a supporting technology for cryptocurrency Bitcoin, and connects to other transactions nearby, securely encrypting the information. This ledger technology has proved to be the larger value of cryptocurrencies by tracking digital currency, with opportunities to revolutionize almost every industry.
Here are ten industries with the strongest blockchain use cases.
Financial Services
The financial industry can use blockchain to redesign costly legacy workflows, remove financial intermediaries, improve liquidity, and free up capital. The technology can also help reduce infrastructure costs, increase transparency, reduce fraud, and improve execution and settlement times. An example is IMANI, my mobile payment start-up with a wallet to manage fiat, crypto, and digital currency targeting financial inclusion for the unbanked.
Government
There are numerous uses of blockchain in government to increase transparency and trust, while reducing fraud. It is being used across a range of activities from tracking election voting to asset registration, such as vehicles and land. Microsoft is working with Accenture and the United Nations to prevent human trafficing using blockchain to provide a legal form of identification for society's vulnerable. Multiple governments in smaller nations are also examining blockchain's potential use for replacing their national currency.
Real Estate
For starters, the real estate industry can use blockchain to make valuation much more accurate. Think about what could be achieved if all the data related to the real estate industry was accessible via blockchain. Not to mention how it will positively reduce closing costs and increase trust in global record keeping. With blockchain, all the data can be secured and stored in an online encrypted platform, thereby reducing the hassle of financial intermediaries and reems of paperwork. An example of this is Ubitquity that tracks title deeds and land records with an immutable database of all US properties on a decentralized blockchain to reduce title insurance costs.
Insurance
Insurance can benefit from transparency for its customers, and faster and secure client services, through blockchain technology. Smart contracts can revolutionize the insurance industry as we know it. This is because it doesn't just deliver real-time data but also keeps it secured at all times. An example is B3i, the consortium of five European firms partnering on this blockchain initiative.
Healthcare
Blockchain can provide the healthcare sector with a safe platform to store patient medical history as well as share or revoke access to data with doctors and healthcare providers—where the probability of data breaches is decreased due to encryption of all data on the chain.  Not only is this a more secure approach to maintaining patient records, it practically mitigates any possible errors such as misplacement, wrong diagnosis, etc. It allows different stakeholders in the blockchain network to access the information from a single place, and even provides patients the chance to monetize their patient records for the sake of research. An example of this is Patientory, a blockchain for electronic health records (EHRs).
Media & Telco
Blockchain provides several applications in digital media and telecom industries such as instant payments to enable near-instant delivery. Blockchain removes human error and automates processes, while reducing roaming fraud and subscription identity fraud. Cryptocurrency payment processes settle payments immediately from wallet to wallet. An example is The Blockchain Group a unit of Deutsche Telekom
Retail & Manufacturing
Suppliers, growers, processors, distributors, retailers, regulators, and consumers could potentially gain permissioned access about the origin and state of purchases in their transactions through better supply chain management, and more easily trace contaminated foods to their source. IBM is using blockchain with leading food suppliers to better regulate food safety.
Power & Utilities
These basic commodities could benefit from decentralized control and freedom from the enforced and inflated rates from governments or large companies. Blockchain users can trade electricity similarly to other commodities, conducting the transaction and maintaining the records within the blockchain network itself. Grid+ uses Ethereum blockchain technology in the retail energy industry out of Austin, Texas.
Diamond
Blockchain technology has enabled diamond suppliers and intermediaries to replace the paper certification process using blockchain's ledger to create "digital vaults" and determine the origin of any diamond. EverLedger, out of the UK, proves each diamond's unique identity using forensic approaches and tracks it as a digital asset stored on their distributed ledger, ensuring buyers are getting an authentic, conflict-free gem.
Travel & Hospitality
The decentralized nature of blockchain means that information can never go 'offline' or be lost through accidental deletion or a malicious cyber-attack, ensuring travel transactions are always traceable. These are the most exciting four uses of blockchain in hospitality and travel:
Tracking luggage – using a decentralized database between companies and countries makes this much easier
Identification – capacity to drastically reduce check-in and wait times using biometrics
Customer loyalty programs – easier access to information and points, and the distribution of tokens, as well as fraud prevention
Secure payments – serving as a global ledger to provide traceable, simple and secure payments whether accepting crypto or digital currencies
An example is Winding Tree, a global baggage tracking and booking service via blockchain without any third-party involvment.
The future of blockchain
According to Deloitte; "Trust is the cornerstone of business. Blockchains permit trust to be intrinsically embedded into a technological solution, thus enabling smooth partnerships and transactions with potentially little friction between the various stakeholders."
So whether or not Bitcoin is here to stay, according to LinkedIn blockchain is the most in-demand segment of jobs the world over, and can provide unparalleld business value to consumers, suppliers and shareholders alike. Blockchain can also make significant improvements in the world's standard of living by increasing financial inclusiveness, reducing corruption, and enabling decentralized access to value-creating assets.