Fira Barcelona, Gran Via Venue
The fifth IoT Solutions World Congress brings together over 400 top-level speakers over three days in October.
This is the growing global event dedicated to Industrial IoT solutions in real world applications, across multiple verticals. It is dedicated exclusively to joining IoT providers with industry in order to help the latter with the digital transformation of their business while increasing productivity via this disruptive technology.
Details of the first session of 2019 have already been confirmed.
2019 Focus
The 2019 IoTSWC Congress will focus on following areas:
Manufacturing
Healthcare
Connected Transport
Energy and Utilities
Open Industry
Enabling Technologies
Artificial Intelligence
Blockchain
The event also includes: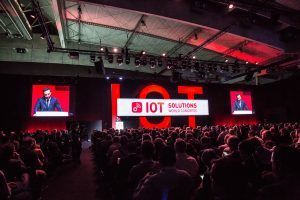 Exhibitor area with over 300 exhibiting companies
A dedicated testbed area, showcasing products and services developed by leading industrial enterprises
More than 400 speakers from cross and vertical sectors
Side events and brokering opportunities to facilitate high-value networking
Two new events will be co-located with this year's IoT Solutions World Congress:
Blockchain Solutions Forum
Artificial Intelligence and Cognitive Systems
Start-up Zone
New for 2019 is a dedicated exhibition area for start-ups, with a favourable pricing structure designed for new companies. . Exhibiting could be quite costly for young enterprises, so they created a special scheme with more favourable conditions (€995 total):
Discounts
CENSIS is delighted to act as an Ambassador for this programme, offering discounts and other benefits to our community to help companies attend:
Get a half price Expo Pass (value 60€) to the Exhibition Area – register online using code 845AF285
CENSIS is able to offer further exclusive discount codes for substantial savings on the price of the conference pass. Please get in touch directly with us if you are interested.