3 June 2019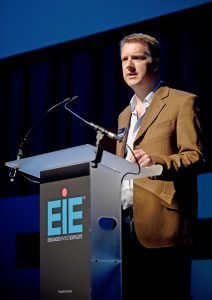 IoT Explorer winner and CENSIS client, iOpt Assets, will boost its headcount after securing £600K in seed funding. Up to six new jobs will be created over the next two years.
Founded in 2016, iOpt Assets uses data analytics, sensors and IoT to allow owners and managers of property portfolios landlords to monitor the internal environment of their assets from afar. Algorithms and machine learning techniques predict when and where issues such as mould growth will arise, allowing preventative intervention before repair costs or tenant health issues escalate.
Founder Director Dane Ralston said "After three years of being in business we're able to fully realise the potential of our product and the difference it can make to asset managers in the running and maintenance of properties; significantly reducing their maintenance bills and extending the life of their assets."
Renfrewshire Council
CENSIS supported iOpt Assets in a project with Renfrewshire Council to help tackle fuel poverty in social housing, potentially saving local authorities millions of pounds on property management and repair bills.
Temperature, humidity, and carbon dioxide levels at 50 social homes around Paisley were monitored. All of the residents at the properties being monitored opted into the project.
Capturing data in near real time allows the Council to identify anomalies in housing and take action to protect tenants and its property assets. Consistently high humidity and low temperatures, for example, could indicate a tenant is living in fuel poverty; while high carbon dioxide levels suggest there might be a problem with ventilation and air quality.
The project helped Renfrewshire Council spot a number of potential issues at its properties, including homes that have impending damp, tenants who needed help with their heating system, and several occupants living in fuel poverty.