29 August 2019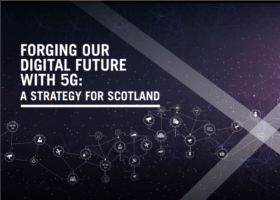 CENSIS is working with the Scottish Government to support its 5G activities
The Scottish Government has published its strategy to place Scotland at the forefront of the 5G revolution.
Entitled 'Forging our Digital Future with 5G', the blueprint sets out how the Scottish Government will work with industry and other bodies – including CENSIS – to ensure everyone in Scotland reaps the benefits of this technology.
5G is the next generation of mobile internet, offering faster speeds and enhanced connectivity. However 5G is more than just an upgrade of earlier generations of mobile connectivity and will integrate with other wireless technologies including WiFi and the Internet of Things.
5G could enable Scotland to add £17 billion to GDP by 2035, creating 160,000 jobs and increasing productivity by £1,600 a worker in just over 15 years.
Potential uses of 5G technology are enormous and are set to bring transformative benefits to urban and rural areas. The technology could be used for advancements in manufacturing, healthcare, transport, education, public services, energy efficiencies, farming, aquaculture and much more.
CENSIS has already delivered many proof of concept and collaborative projects in this space, such as water monitoring and compliance to prevent the spread of legionella in public buildings, preventing fuel poverty in social housing properties, and bringing 5G connectivity to rural Orkney.
The Scottish Government has commissioned CENSIS to deliver a year-long programme to enable engagement in key IoT markets and demonstrate the potential of IoT across some of Scotland's key growth industries.
The package of activity includes five 'FutureTech' workshops around smart cities, tourism, transport, food and drink and health, starter development kits aimed at businesses without any in-house IoT expertise, and two 'how-to' IoT guides, designed to educate and inform businesses and organisations about how they can use IoT technology. The first, entitled 'Getting started with IoT: exploring IoT for business growth' was published in June 2019 and a second focusing on IoT cybersecurity, will be published soon.
Dr Stephen Milne, CENSIS Business Development Manager said: "IoT technology will transform business operations across Scotland and impact every sector of the economy. It's more important than ever that Scottish companies embrace what it has to offer.
"We're keen to develop strong links with industry to help share knowledge and break down some of the barriers commonly encountered with this technology. The Future Tech workshops in particular, will allow us to identify some exciting new initiatives that we can develop and support in the future."