29 August 2019 | Michael Matheson, MSP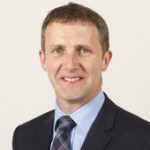 As Cabinet Secretary for Transport, Infrastructure and Connectivity, I was invited to visit historic Crookston Castle this week to learn about the Internet of Things (IoT) and see some of this exciting new technology in practice.
The Internet of Things is about connecting physical devices, like sensors and actuators (i.e., devices that do things, such as spray water, open doors, sound alarms etc). This means that they can be tracked, monitored and managed remotely and more efficiency. At Crookston, Wilderness Sensors were providing Historic Environment Scotland (HES) with data on footfall.
As the name implies, Wilderness Sensors are focussed on using technology in outdoor settings. The company came into being through the Scottish Government's Civtech programme in 2017, developing an innovative solution to a problem presented by HES. Namely, how do you collect meaningful data from 251 unstaffed sites, some in very remote areas? Traditional footfall counters can be unreliable and triggered by wild animals – perhaps not the kind of visitors HES are looking to count!
At Crookston, Wilderness Sensors were able to use the site as a testbed and trial their new sensor array: a compact, rugged, low-powered IoT device. It transmits real-time visitor numbers, environmental information and telemetry to a cloud-based infrastructure. As these devices operate in remote locations, far from power sources, the sensor uses self-monitoring, sophisticated power management and energy harvesting technologies, reducing ongoing maintenance costs.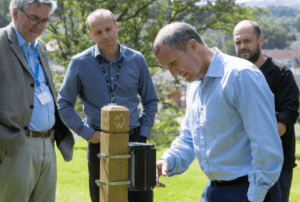 The beauty of a device like this is in the data it collects. Armed with a much deeper insight into what's happening at remote sites, HES can allow better prioritising of investment in staffing, conservation, long term environmental impact analysis and maintenance scheduling and the visitor experience.
Sensors like this need to be connected to something, and during my visit we discussed how the IoT Scotland programme could be of benefit to innovative ideas like this. IoT Scotland is a £6 million project, supported by £2.8 million of public funding, to provide Scotland with a widespread sensor network that aims to galvanise innovation in this cutting edge technology.
We're working with a great team to deliver IoT Scotland, with rollout in the capable hands of Boston Networks, with funding support from the Scottish Government, Scottish Enterprise and Highlands and Islands Enterprise. I was delighted to learn from Alistair at Wilderness Sensors that the network removed an infrastructure barrier, enabling him to focus on his core business and the application side of IoT.
Seeing is believing. Enabling that delivery of IoT applications will be what motivates businesses about the potential of IoT and promote its uptake. I believe this is important because emerging and highly disruptive technologies like IoT are going to be vital in ensuring our businesses and our economy remains competitive in the global marketplace. The leading research and advisory company Gartner, Inc. forecasts that 20.4 billion connected things will be in use worldwide by 2020. We want Scotland to benefit economically, as well as socially, from this market.
Clearly there's a role for Government here. We want to help businesses make an informed choice about a new technology that could not only benefit their own operations but also strengthen the wider economy. With that in mind, we launched our IoT Support Programme in June, working collaboratively with CENSIS. Over 12 months CENSIS will be hosting a series of workshops across the country, focussed around five subject areas: Transport, Health, Food and Drink, Smart Cities, and Tourism. They will also work with individual companies to create exemplar projects that stand as uniquely Scottish use cases, which encourage others to consider using IoT in their businesses.
Alongside this, CENSIS recently published 'Getting Started With IoT', a fantastic guide that provides a clear and authoritative introduction to IoT with an exploration of how it can benefit business growth. I'm pleased to add that a second guide, focusing on cyber security, is in production and will address one of the biggest perceived barriers to adopting IoT. I would encourage businesses to read these valuable guides, and attend the IoT Support Programme workshops where relevant.