1-2-1 hour-long sessions running all day
An Lòchran, 10 Inverness Campus, Highlands and Islands Enterprise, Inverness IV2 5NA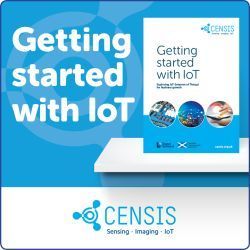 Join staff from CENSIS for a hands-on session and get your first IoT project up and running in under 60 minutes. Aimed at people with no technical background*.
About IoT
There's a transformation taking place in how businesses, societies and individuals work and a new era of possibility is now producing ideas and insights we never would have thought realistic only a few years ago.
Internet of Things (IoT) technologies are a game-changer, allowing companies to create new products and services or implement cost and time-saving efficiencies using data and insights gathered in real-time. Environmental, health and social care IoT applications will also have positive impacts on society.
The availability and low price of sensors, coupled with major leaps in data storage and computing capabilities, means that the time is right for businesses to embrace the major improvements, new opportunities and cost savings that IoT offers.
About the session
Designed for people without a technical background, drop in to our session for some 1-2-1 help. Unbox our easy to use development kit and see just how easy it is to get your own IoT project up and running in less than one hour.
We'll have 1-2-1 sessions running throughout the day, just pick an hour-long slot to suit you and then drop us a line to get booked*.
Further Reading
CENSIS has produced a guide to explain what IoT is, then help you navigate the implementation of IoT in your business or organisation. Download your free copy.
How to register
Email workshops@censis.org.uk to tell us if you'd like to attend. We'll need to know your name, job title and organisation.
*Although we're using these 1-2-1s to work with the IoT kits, we're also happy to use the 1-2-1 to discuss your wider sensor/imaging and IoT interests where CENSIS might be able to help progress.