7 November 2019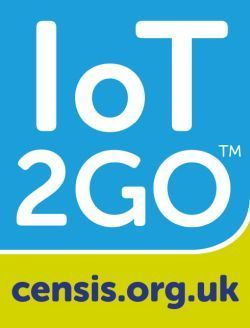 Easy IoT solutions for all organisations
CENSIS CEO Paul Winstanley will today (7 November 2019) announce the launch of three IoT2Go™ development kits at the CENSIS 6th Technology Summit in Glasgow.
Using off the shelf hardware, the three kits – for indoor, outdoor and imaging applications – are 'plug and play' boxes that give organisations a chance to experiment and build their own complete IoT network.
Designed to be used by people with no coding or technical experience, IoT2Go will help organisations or businesses develop their own ideas for product or service innovation, long before having to take any significant planning or financial decisions.
Once unpacked and connected, users can quickly begin to experiment and see results. Once companies begin to get a clearer idea of what they want their IoT system to do, CENSIS can work with them to start to develop a more bespoke solution.
IoT2Go kits are initially configured to capture:
INDOOR – air quality, air pressure, temperature, humidity, ambient noise and people movement in buildings.
OUTDOOR – local weather parameters.
VISION – real time count and classification of people and objects.
Paul Winstanley, CENSIS CEO said ""Our IoT2Go kits are designed so that anyone can build and use a network in their business. We're already exploring some of the transformative effects access to IoT can have for services providers in the public sector, along with other areas like this which are not necessarily immediately associated with technology."
Organisations interested in using IoT2Go in their business are invited to contact CENSIS to discuss their requirements and get started.
The launch of IoT2Go marks the latest phase of a year-long programme CENSIS is delivering on behalf of the Scottish Government to demonstrate the transformative potential of IoT across several of Scotland's key growth industries.
Launched in summer 2019, the programme has already delivered 'FutureTech' IoT workshops for tourism, food and drink, healthcare, smart cites and transport, exploring the use of IoT in real world projects with a focus on user-services, quality of outcome and viable business cases.
Two 'how to' guides: Getting started with IoT and Cyber Security and IoT, each designed for a non-technical audience have also been published.