20 November 2019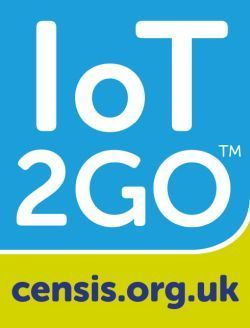 In November 2019, CENSIS launched IoT2Go, a series of plug and play IoT development kits for organisations to try out an IoT solution in their own premises. No experience is required and the kits are designed to be quick and easy to set up. All kits can be used by people with no technical or coding experience. Three kits are available – for indoor and outdoor use, and one specifically for indoor imaging challenges.
For further information on IoT2Go, drop us a line at info@censis.org.uk
IoT2Go FAQs
I am unsure whether an IoT system would be worthwhile in my organisation
Any organisation, which wants to investigate using IoT to improve its own processes or services but is unsure how to get started or how much effort is involved in implementing a solution, will find these kits useful.
Our development kit is designed to be up and running straight out of the box, without any time spent coding or any huge financial commitment.
You can deploy an IoT system in a particular area and see the results quickly.    Then you can decide whether this is something you need to implement in your organisation and whether you need a simple kit like this, or if you want to talk to us to make it more bespoke.
I don't think my management team and finance team understand IoT and are therefore unlikely to invest in it
We understand why there is uncertainty and you definitely don't want to commit a large figure to an IoT system when you don't know if you need it.  This is the ideal way to show your team what an IoT system can do.   Unpack it from its box, set it up and get started.   You will be able to see what can be measured in your organisation and how useful these measurements could be.
Will I need coding experience?  I don't have any
You don't need any with this development kit.  We've already done the hard work for you and the IoT2Go kits are pre-installed with sensor options.   All you need to do is set up the kit following the easy to read instructions and you'll have an IoT system in place.
Do I need any special IT or electrical skills to install?
No, the sensors/camera are connected to the IoT2Go controller, which is wirelessly connected to an IoT gateway (included). The data from the gateway is displayed on a cloud server, which only you will have access to. Set-up takes less than 10 mins and is similar to connecting your mobile phone to a wireless network.
How does the data get from the gateway to the cloud server?
There are a number of connectivity options available. By default, IoT2Go comes ready to operate over LoRAWAN networks such as 'IoT Scotland' or the 'Things Network. Other wireless connectivity options are available on-board for technically competent developers such as NB-IoT, Sigfox, Bluetooth, WiFi.
I know a bit about IoT, I know that there are off the shelf components that make up an IoT system but I'm not sure which ones to choose – and don't have the time to research it
We've taken the pain out of that task too.  We've tested and trialled various pieces of hardware and the items we've selected are ready to use.  You don't need to spend any time researching hardware.
I'm a developer, can I use this as a development platform?
Yes, it is an open flexible and modular system, which can be used as a platform for hardware and software development.
My organisation is pretty keen on implementing IoT, but we might need more than just a starter kit
No problem.  Use our development kit as a first base board design to test a few measurements around your organisation and decide what you else you want it to do.   The development kit links in to established networks and can we can help you work further to expand it to create a bespoke solution.  We can work with you to go deeper and develop code to collect other data.
What is the difference between IoT2Go and development kits such as Raspberry Pi?
IoT2Go can be used straight out of the box without having to write any code. It is built using powerful OEM development microcontrollers. As such it is a very flexible system allowing both non-technical and technical users to develop IoT solutions with a range of connectivity options.
What if I want to keep IoT2Go permanently?
If you want to incorporate IoT2Go into your processes or services full-time then CENSIS can advise on how to use the solution as a stepping-stone to a fully certified and developed solution.