22 November 2019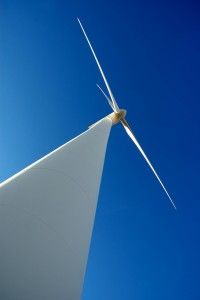 CENSIS scoops a top prize at ScottishPower's Supplier Awards
The event, held on 7 November 2019 at ScottishPower's Glasgow HQ, celebrated the company's supply chain companies for their dedication and quality of work across nine categories.
CENSIS was presented with the Innovation Award for its creativity in providing technology support to the energy provider.
ScottishPower Renewables and CENSIS worked together to create a bespoke sensor system capable of being retrofitted to existing turbines on the Kilgallioch windfarm. CENSIS created the required hardware for sensors to be retrofitted to the turbines and measured wirelessly using a LoRa network, with readings captured every second and transmitted every 10 minutes.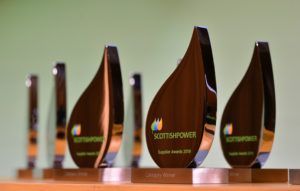 Although this trial looked at generator cable temperature monitoring, there are a number of potential uses for such a bespoke system.
Kevin Power, System Architect at CENSIS said: "This project looked specifically at cable temperatures, but it relates to a wider change – digital enablement and the use of the Internet of Things and sensor systems to make our infrastructure smarter.
"Intelligent sensing capability, combined with low power, low cost and secure wireless infrastructure, has immense potential for improving the safety and resilience of our infrastructure, reducing maintenance costs, and increasing operational efficiency.
"We're delighted to have won this award and to be recognised for our work in this field."