21 February 2020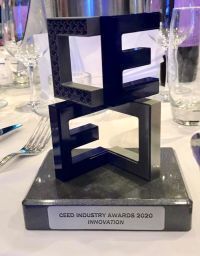 Innovation award received for groundbreaking AI work
A project partnership between CENSIS, Police Scotland, Thales UK  in Glasgow and the University of the West of Scotland has picked up a top prize at the second annual CeeD Awards.
The event, held in in Glasgow on 20 February 2020, celebrated Scotland's engineering and manufacturing communities, recognising achievements and best practice across 13 categories.
CENSIS and partners received the Innovation Award for the ground-breaking artificial intelligence (AI) work that is helping Police Scotland's remotely piloted aircraft systems (RPAS) find missing and vulnerable people. The technology – thought to be the first of its kind used by a UK police force – is a form of machine learning that provides real-time image analysis for identifying a human in rural and remote areas.
As Scotland's Innovation Centre for sensing, imaging and Internet of Things technologies, CENSIS is focused is not only on creating and supporting sustainable economic development in Scotland but also generating social benefit. With this project, CENSIS and its partners achieved both, pushing the boundaries of AI and machine learning to create technology that in turn will be used to save lives.
By pairing UWS' machine learning expertise with the imaging knowledge and exploitation experience of the Thales team in Glasgow, a brand new capability has been developed that addresses a real-world challenge of further improving national public safety. Not only will the technology benefit Police Scotland, but once fully commercialised the potential applications could be impactful worldwide.
Paul Winstanley, CENSIS CEO said: "The collaboration has been extremely successful. It is testament to the depth of technical skills and knowledge in our universities and businesses that this pioneering technology has been developed in Scotland.
This project is a great example of what can be achieved when the right academic institution and industry specialists team up with an end user with a specific but scaleable challenge. The outcomes of this project place the technology partners at the forefront of research and industrial applications in this area."