24 February 2020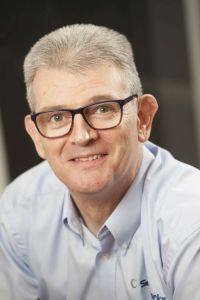 Scottish SME develops 'Fitbit for machines'
This story was featured in The Scotsman on 24 February 2020.
With the support of CENSIS, Livingston-based Sensor-Works is set to increase turnover by up to ten times as it prepares to launch the latest version of its 'Fitbit for machines', which uses IoT technology to monitor machine health.
CENSIS helped Sensor-Works develop a new product in its range – an entry-level machine condition monitoring device which builds on its BluVib products, will give SMEs the opportunity to take advantage of sensor technology they may have previously been priced out of.
Just as a 'Fitbit' measures factors associated with human wellbeing, like heart rate and number of steps, Sensor-Works' product monitors metrics that indicate the health of machines, including vibration signatures and temperature. This allows for quicker detection of faults within machinery to avoid surprise breakdowns and minimise downtime, saving users time and money.
The device can be connected to a mobile device through Bluetooth via a downloadable app. Previous versions of the technology have been used for more complex purposes and are designed to highlight precise issues that arise in machines.
BluVib technology was first brought to market in 2013 and is currently used to monitor assets in industries including oil and gas, mining, and renewables. After helping the development of BluVib, CENSIS has continued to support its latest iteration, including by bringing it up to date from Bluetooth 4.2 to Bluetooth 5, resulting in lower power consumption and an increased data rate.
Ian Bain, Managing Director at Sensor-Works, said: "The new BluVib product will be integral in our plans to grow Sensor-Works, increasing turnover and, with that, employee numbers.
"While larger companies require more precise monitoring data on their machinery, most smaller manufacturers only need to know that there is a problem as early as possible. Using our existing expertise, we've been able to broaden our offering to create a device that makes condition monitoring technology more affordable while maintaining reliability.
"The introduction of the latest BluVib product will allow us to enter new markets, grow our own networks and continue to innovate for companies of all shapes and sizes."
Paul Winstanley, CENSIS CEO, said: "The success of BluVib is further evidence of the value in CENSIS's work bringing together industry need with the academic expertise and research that can fulfil it. Sensor-Works' latest development, which seeks to open machine condition monitoring technology up to SMEs, is an exciting project that will help a small tech business grow, while increasing accessibility to IoT technology.
"By helping companies take initial ideas to the next stage, we are working to position Scotland as a hub of IoT innovation. Products like BluVib, through its various stages, will increase the efficiency of business across a host of industries in Scotland, contributing to sustained economic growth."