13 March 2020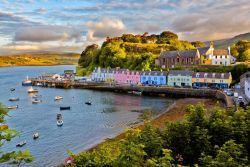 CENSIS is supporting a series of IoT testbeds across hospitals and healthcare facilities in the Highlands and Islands as part of a bid to explore how NHS Highland can drive efficiency and enhance user and staff experience.
The initial set of networks will be rolled out at Lorn & Islands Hospital in Oban, Fort William's Belford Hospital, and Caithness General Hospital in Wick with more to follow. A testbed is already set up and operational at Raigmore Hospital in Inverness. The testbeds will be used to explore a wide array of non-clinical applications for NHS Highland. These could range from monitoring the health board's environmental impact to supporting patient safety.
The initiative follows the 'FutureTech' workshop held by CENSIS in Inverness, which explored the use of IoT in health and social care. The workshop was part of a wider programme of business support for IoT commissioned by the Scottish Government and delivered by CENSIS.
NHS Highland serves over 300,000 people and is largest NHS estate (in terms of size) in the UK at 32,500 square kilometres – almost equivalent to the size of Wales and Northern Ireland combined.
Alan Whiteside, NHS Highland Innovation Consultant said: "NHS Highland has a massive area to cover and, generally speaking, the larger the area the greater the cost. That's why it is so important for us to optimise our assets, facilities, and, potentially, even re-assess how our services are designed. Ultimately, we want to deliver better healthcare services to our communities and the use of technology will be an integral part of how we achieve that by managing the estate remotely, improving performance, and reducing costs."
"One of the biggest areas of opportunity is asset-tracking, using sensors to locate equipment and streamlining how it is taken where it needs to be through better-informed logistics. Another potential theme is the use of predictive maintenance, allowing the health board to plan work before equipment breaks down, rather than waiting for it to fail."
"There are regional distinctions that we'll be taking into account, so what is important in each area and facility will influence what the testbed is used for. What works in Oban may not work in Skye and there may be differences in priorities for Wick and Dunoon. Nevertheless, we hope that each of the sites can learn from one another.
"Further down the line, there are ideas we are exploring around the use of IoT to prevent health issues, whether they are related to fuel poverty or helping people with dementia live more independently. We are also looking at patient flow through hospitals, better managing their experience and reducing the time people spend in hospital, along with the associated costs. IoT technology could allow us to change our service model entirely."
Dr Stephen Milne, CENSIS Business Development Manager, said: "Increasing the efficiency of estates in the NHS and social care could significantly improve sustainability and save public money. A better understanding of how rooms are used, what equipment is in need of repair at an earlier stage, and being able to track expensive, portable assets are all real-world examples of where IoT could have a substantial impact. NHS Highland is leading the way in the exploration of non-clinical uses of IoT and there are huge opportunities for other public services to follow in its footsteps."
Cabinet Secretary for Finance Kate Forbes said: "By creating a platform for innovation, these IoT initiatives can make a real difference to the delivery and efficiency of health services in the Highlands, an area of immense beauty but also vast distances and a geographically dispersed population.
"I'm clear that the Internet of Things is an enormous opportunity for Scotland – improving everyday life, tackling climate change, boosting our economy and enriching public services such as the NHS. Certainly, I want Scotland to fully embrace sensor technologies, so we're working closely with CENSIS to educate and enthuse our businesses, public sector and the wider public about the tremendous possibilities on offer."