20th April - 29th May 2020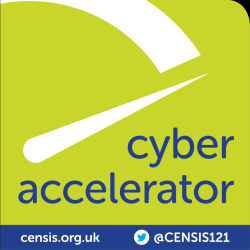 Closing date 29 May 2020
1-2-1 appointments available to discuss your idea before applying  
Using the successful 2017 CENSIS IoT Explorer competition as our inspiration, we are now taking IoT cyber security to a whole new level.
CENSIS is offering up to five Scottish-based companies or individuals a package of co-ordinated growth support over several months to help them accelerate an IoT cyber security or resilience product or service into the market.
This event is part of the Scottish Enterprise and Scottish Government supported cyber challenge programme, launched by Kate Forbes MSP at the 6th CENSIS Technology Summit.
Who can apply?
The accelerator is open to:
Companies with innovative plans to move in to or grow their presence in the IoT cyber security or resilience space.
Individuals with strong ideas and concepts – you may not be trading yet, but you'll have a well-planned, clearly thought through idea for an IoT cyber security or resilience product or service.
Because of the way the programme is funded, these support packages are only available to organisations or individuals with an office or base in Scotland.
What ideas are we looking for?
There are no limits – we're looking for ideas that can be applied to any sector or market. Examples might include:
Smart cities and towns
Precision agriculture and farming
Energy use/energy efficiency
Facilities management and building monitoring
Healthcare, social care and/or assisted living
Transport and logistics
Tourism
Manufacturing and/or Industry 4.0
Natural environment and environmental monitoring
Telecommunications infrastructure
What's on offer?
Up to 10 days' support from our skilled, industry-experienced engineering team over a maximum of six months (on non-consecutive days). We'll work with each winner to tailor-make a support package.
Business development support from CENSIS, including introductions to third party support organisations.
IP support workshop from Scottish Patent and Trade Mark attorneys, Scintilla IP
Hot desking available on request (subject of course to national guidelines around home working and access to offices).
What's the timeline?
We're open NOW to accept your application, so don't wait.
As soon as your application arrives, our review panel will assess it. If we think it has potential, we can allocate one of the five support packages and start working with you immediately. We might want to have a short interview with you, via teleconference, before making our final decision,
The very last date to send us your application is 29 May but if you have an idea please don't wait and risk missing out; send us your idea now.
Get a 1-2-1 appointment
If you have an idea, you can talk things over with a member of the CENSIS Business Development team prior to submitting your application. Email us if you'd like to do this and we'll set this up.
Scottish EDGE
CENSIS will select an overall winner from the five winners of the support package.
The overall winner of the IoT Cyber Challenge Accelerator Programme will win a place straight to the semi-finals of the Scottish EDGE competition.
Scottish EDGE is the UK's biggest business funding competition for businesses headquartered in Scotland with innovative, early-stage, high-growth potential ideas, offering loans and grants of up to £150,000 and a comprehensive business support package.  The competition is very popular attracting around 250 entries to each bi-annual round of the competition with only around 50 of the initial entrants getting to the semi-final stage
Launch Event
All winners will come together on 25 June for a virtual launch, where they'll be introduced each other and meet the partners and people who'll be supporting them over the coming months.
How do I apply?
Simply download the application form and don't forget to read the rules.
We've tried to make it as simple and straightforward as possible but if you've any questions just email us with the subject heading 'IoT cyber accelerator'.
Key dates
The very last date to submit your application is 29 May 2020. Remember that we'll be reviewing applications as they arrive and announcing winners immediately, so don't delay if you have an idea.
The latest you'll hear from us (if you submit you idea on 29 May) will be 12 June 2020. You'll hear earlier if you apply earlier.
Good luck with your application. We can't wait to hear from you.