28 April 2020 | Paul Winstanley, CENSIS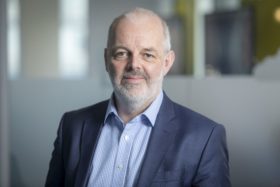 CENSIS CEO Paul Winstanley, explores the role of innovation during and after the Covid-19 pandemic, and how the innovation ecosystem can better align itself to the needs of the NHS, the government, and society. 
The old saying that necessity is the mother of invention has seldom had more salience, as the world seeks to understand, manage, and combat the Covid-19 outbreak. It has caused everyone to rapidly think about how we respond and move forward in a situation we're told cannot be compared to anything that has come before.
In the short term, that has meant focusing on the here and now: getting individuals, teams, and entire organisations set up to work remotely; providing extra support to those who need it; and adapting to a new set of circumstances. In essence, it's about bringing a sense of order to what is an inherently chaotic situation.
That phase is now done, and it would be fair to say that the majority of people have adjusted to working from home and the confines of lockdown. So, we move into the medium-term view which looks at how the technology sector, the innovation ecosystem included within it, can better align itself to the needs of the NHS, the government, and society.
There are a range of ways that this can be done and it will be important to look at other parts of the world, analyse their responses, and identify the lessons to be learned. New ways of delivering social care, public service continuity, and the provision of transport and logistical operations are priority areas too.
For CENSIS, one of the most pertinent themes we will see emerging is remote health monitoring – helping the health service to support people with medical conditions from their homes. This is part of what is sometimes referred to as 'telemedicine' or 'telehealth' and, in a world where movement is constrained and the NHS's resources are placed under significant stress, it could relieve a great deal of pressure from the people delivering vital services.
Indeed, we are already seeing companies come forward with solutions. Just the other week we brokered a relationship between a major infrastructure organisation and a tech business to explore how monitoring could be applied to the workplace and spot signs of Covid-19 through a rise in staff's body temperature. A potential early warning system for the disease, a proof of concept system will be trialled imminently.
Of course, we would welcome the chance to speak to any other businesses with existing or new ideas for technology that could help directly or indirectly combat Covid-19 and its effects. We can help make the right introductions, support the development of prototypes, and accelerate their introduction to markets.
Nevertheless, the longer-term is more difficult to fathom. There are bigger questions to ponder – not least, what exactly the future looks like. There are few people that believe the world will return to the way it was a month or two ago, and there are fundamental aspects of how we have done business and conducted our day-to-day lives that will likely change.
If the last few weeks have proven anything though, it's that people will find a way to persevere. The public sector finds a way to keep delivering critical services, businesses mould their strategies to new circumstances, and people adapt to a new way of living. We can still work and communicate with one another.
Of course, that doesn't apply equally to all. While a Zoom meeting or a call on Skype can keep things moving for some, in manufacturing, for example, this is not necessarily the case. There is now an imperative for many industries to look at how they function and identify areas where digital technologies can help with continuity.
When the dust has settled, there will inevitably be a time of reflection and, to some degree, a reset – there will be changes to how we live and work, which will ultimately shape our economy. At times like this developing and embracing new technologies is more important than ever, with innovation at the heart of everything we do.