3 August 2020 | Steven Bremner, CENSIS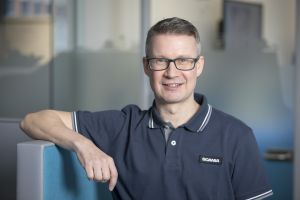 Senior Engineer Steven Bremner tells us how lockdown has transformed his home into a CENSIS outpost for IoT experimentation
Hi Stevie. Tell us what you do at CENSIS, and what work life was like before COVID-19?
I'm one of the senior engineers here, specialising in hardware design. I joined CENSIS in 2018 and I've working in the electronics for over 25 years in various sectors – computer networking, data/telecomms, lab instruments, medical devices, subsea and land seismic surveying and now CENSIS.
My core skills are in designing the electronics for microprocessor and low-power microcontroller-based applications, low-power, battery operated, digital sensor circuits usually with a wireless comms interface such as WiFi, Bluetooth, LoRa, NFC, RFID etc. I also do PCB layout design for rapid prototyping custom designs. At CENSIS we have a well-equipped lab for electronics bring up and build/assembly and test of prototype/proof of concept designs.
No two days were the same at CENSIS but pre-lockdown. A lot of my time involved face-to-face meetings with customers, either doing on-site visits or having visitors in the office or lab where we could demo prototypes or brainstorm ideas.
And what is your working life like now, post lockdown?
I still spend most of my time at home, though I've had to – safely of course – visit the lab a few times to use facilities to progress project work.
While the engineering team has been separated physically, we're in touch every day via Teams. I've found our daily communications really useful as we are still working and delivering on projects as a team, so it's important to keep in touch.
How has your side of the electronics industry been affected by COVID-19?
I've not had any issues sourcing what I've needed; online electronics suppliers and our PCB manufacturing or assembly partners have more or less been operating normally. Lockdown hasn't adversely affected the way we are designing or building prototype electronics.
Has COVID resulted in a change to projects you are working on? Have clients amended their goals?
Some projects, particularly those involving site visits or field installations have had to be put on hold for the time being, or we've had to find workarounds.
For example, we were due to fit an IoT enabled weather station in a remote part of the Highlands, but that was put on hold until very recently. While the field install was on hold, I had a similar set-up on test in my garden, so the time was well spent in other ways.
We are working with ScottishPower on an innovative wind turbine monitoring project and we planned to have been out in the field to make some refinements about now. However, we're working closely with the ScottishPower team to be to monitor the equipment remotely for now.
Another example is a project we're doing with SEPA. After designing and building devices, it was disappointing not be get out to the field to install them, but we assisted with the installation remotely once SEPA staff got the go ahead to resume field-based activities.
While some interaction is on hold, we've also started new projects, some of which are directly related to COVID-19. One explores how IoT can be used to enhance physical distancing policies at work, and another is on healthcare devices to remotely monitor at-risk patients.
I've also been using my time for testing and trialling devices. That weather station I mentioned: I've set it up in my garden. While Lanarkshire may not experience quite the same weather extremes as the final destination of the device, it's provided useful data that has let me to do a bit of snagging and given us the confidence that the kit can be dropped in to the field as soon as that's possible.
I've also brought our own indoor and outdoor IoT2Go kits home with me: I must have the most IoT-enabled home in the neighbourhood. My office has sensor devices measuring things like temperature, humidity, motion detection, and noise, all connected up to a dashboard that the team has access to (which of course means they can see how long I spend at my desk and how hard I am working!).
Out in the garden, I have a dozen sensors telling me things like how much moisture is in the ground, the air and ground temperature, distance measurement, wind speed/direction and rainfall, pressure, temperature, humidity and even GPS co-ordinates of some of them. All of the sensors are battery powered and most have a solar panel, so I keep track of how well the solar panel keeps the battery charged.
I'm not sure what the neighbours think of it all but most of the kit is very unobtrusive. I did cause a bit of a stir the day they spotted me manoeuvring a three-feet sized satellite dish in a massive tripod into place in the back garden as part of a comms experiment we were doing with a university astronomy group. I still wonder what they thought I was up to …
You used your engineering skills as part of efforts to support frontline health workers, can you tell us more?
At the start of the year we bought a 3D printer. I took it home with me at the start of lockdown intending to teach myself mechanical design and print out little boxes and enclosures for our prototype sensor devices. One of my colleagues at CENSIS pointed me to a crowd sourcing PPE initiative to printing parts for full face shields. I got on to that straight away, downloaded the files and kept printing until I ran out of materials – 125 print hours later. I'm really pleased that CENSIS has been able to play a part, and it's been a great community to support.
What do you see as the main downsides and upsides of this new way of working?
I've not personally found lockdown too difficult. Other than the occasional trip to the lab, I've been able to get on with most of my work at home – either bringing kit home or ordering supplies online.
On a personal note, being at home has meant being able to have regular family dinner times, and spending more time in the family 'bubble' has been great. I play the guitar and I live in a very musical household – one of my kids is going off to study music at the Royal Conservatoire this year – and I share my home office space with several guitars, a drum kit, a keyboard and a snooker table. The coffee breaks I'd take at work have morphed into guitar and snooker breaks – something I definitely wouldn't be able to get away with in the office!
While a lot of hardware engineering uses CAD-based tools, when the time comes to get building there's no place like the lab to get things done so I'm looking forward to the day we are all (safely) back together.