3 September 2020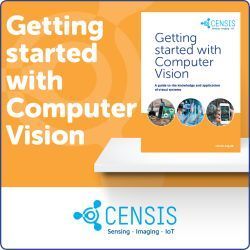 Published September 2020
The latest 'How to' guide from CENSIS, Getting started with Computer Vision not only explains what computer vision is and when to use it, but also how to set up a system and process and interpret images. You can download the brochure at that link.
We explain when to use deep learning, machine learning and artificial intelligence, talk about embedded vision platforms, cloud and edge processing and IoT.
You can also read about creating your first prototype and how CENSIS can help. In the document, we include a list of incubators and learning resources to further your knowledge, as well as a description of the computer vision community in Scotland, covering companies and research institutions.
Other guides in this series include:
Getting started with IoT – an explanation of the Internet of Things (IoT), what it can do for your business and how to get your strategy in place.
Cyber Security and IoT – the importance of ensuring IoT devices and systems are secure by design
IoT for Social Infrastructure – exploring how IoT technologies can be used to optimise the use of our public buildings such as schools, hospitals and social housing.