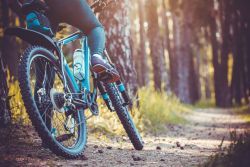 Adventure tourism – participating in outdoor activities such as white water rafting, bungee jumping or mountain biking; and discovering new ways to travel, explore and experience a destination – is a worldwide trend, with many independent travellers and tourists interested in participating in adventure activities during their trip. It's a market where up to three quarters of the revenue to be made can go directly to local communities delivering services, equipment and personnel. Adventure tourism is a growth market for Scotland and beyond, and using data and adopting digital approaches are key to anticipating and meeting needs and delivering unforgettable services and experiences to customers.
About this event
Register to join CENSIS and partners for this informal session to look at how data from digital operations can be used to enhance services and offerings, specifically within the tourism and digital business communities in the North East of Scotland.  The event is hosted by CENSIS on behalf of partners in North East Scotland's innovation support ecosystem: Opportunity North East, ScotlandIS, The DataLab, Interface, Barclays EagleLabs, the OGTC, Skills Development Scotland, Elevator and Scottish Enterprise
Our speakers will share with us the journeys travelled from both business and visitor perspectives, and where data and digital technologies have the most potential to positively impact the sector. We'll also look at opportunities taken and the impact of Covid.
In our concluding Q&A panel we encourage delegate input, whether that as a challenge holder or a potential solution provider, and hopefully provide a starting point to further discussions and helpful connections and advice from our innovation support network.
Who is the event for
This event is aimed at digital innovators, tourism businesses, the data and digital services supply chain and all and any with interest in growing tourism in Scotland. It would be especially relevant to businesses based in the North East Scotland,
Agenda
Register
Please visit Eventbrite to register. We'll be using Zoom for this event, and the link will be emailed to registered delegates before the event.