27 November 2020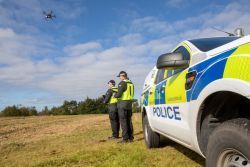 CENSIS, along with partners Thales UK (Glasgow) and the University of the West of Scotland, has won a prestigious Times Higher Education Award for our ground-breaking machine learning RPAS (drone) technology project to search for missing and vulnerable people.
The project team scooped the prize in the highly-competitive 'Knowledge Exchange / Transfer Initiative of the Year' category.
The technology, the first of its kind to be used by police forces in the UK, is a form of machine learning providing real-time image analysis for identifying humans. The system is now being used by Police Scotland to help find missing people in remote and rural areas. Thanks to its advanced cameras and 'deep learning' technology, the system can identify a human who might only appear as a speck in the distance. The judges applauded how the team had built on successive projects to demonstrate life-saving applications.
Paul Winstanley, CEO of CENSIS, said: "The success of this project is testament to the quality of skills and knowledge in Scotland's technology sector and its academic institutions. A first of its kind for a UK police force, the project has an important real-world application in keeping people safe. AI and machine learning technology has huge potential beyond Scotland and in other sectors, and this is another great example of what can be achieved through cross-sector collaboration, underpinned by leading research and pioneering technology."
The awards were announced on 26 November 2020 at an online ceremony. The Times Higher Education awards are widely considered to be the 'Oscars' of the UK higher education sector.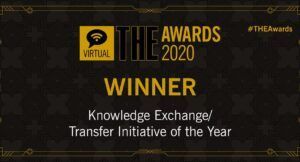 This project has already been recognised at two other awards, winning in the 'Innovation' category at the 2020 Ceed awards and taking home a 'highly commended' in the Multiparty Collaboration category at the Scottish Knowledge Exchange awards back in 2018.