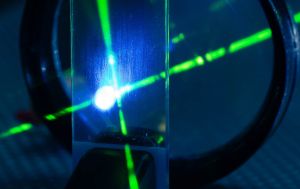 Please join Invest in Bavaria, with Technology Scotland, Fraunhofer UK and CENSIS, for a free online webinar designed to give Scottish players in the photonics industry an overview of, and insights into, Bavaria's optical technologies ecosystem. The event is design to generate ideas and channels for cross-border exchange and networking for trade, collaboration as well as joint initiatives and programmes.
Almost 140,000 people work in optical technologies – one of the twelve key technologies – in Germany today. In 2018, the turnover of the sector was nearly €40 billion. Bavaria's share of this is over 50 per cent in the lighting technology, information technology and communications technology sectors, and around 25 per cent in medical technology and life science.
With more than 500 companies in the field of optical technologies, Bavaria is the number one location in Germany. Key fields include laser technology, additive manufacturing, holography, metrology & sensor technology, laser material processing and fiber optic telecommunications. Photonics is also very significant in the field of biophotonics and medical diagnostics. The session will give you an overview of the sector and key developments, including quantum technology.
On registering for the event, participants can indicate topics that are of particular interest.
Agenda
Introduction and moderation

David Scrimgeour MBE, Global Scot

Welcome address

Simon Andrews, Executive Director, Fraunhofer UK Research Ltd.

Bavaria: Economic overview/public sector and photonics

Peter Englert, Senior Manager Investor Services, Invest in Bavaria

The MSQST: Center of Excellence for Quantum Technology Research

Dr. Tatjana Wilk, General Manager, Munich Centre for Quantum Science and Technology

 The Bavarian Sensor Technologies Network: Photonics & Optical Measurements; Intelligent Sensor Systems

Matthias Streller, CEO | Sensorik-Bayern e.V.

Laser Technologies in Bavaria

Dr. Hans-Joachim Krauss, Bayerisches Laserzentrum GmbH
Registration
Register for free via GoToWebinar.