7 December 2020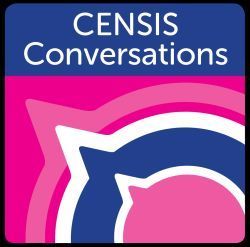 The disruption caused by the COVID-19 pandemic meant that we could not offer our normal CENSIS events schedule this year, and had to move everything online very quickly in spring 2020.
While this was disappointing, we soon launched a number of new ways to stay connected. Our virtual coffee sessions that began in March have created informal networking and discussion opportunities in lots of new subject areas, while our first major online conference, Scotland's Countdown to COP26, brought over 2,000 together on one day in November to discuss and debate challenges and opportunities around climate change.
As we come towards the end of the year, we're pleased to introduce another new events format – CENSIS Conversations.
Hosted by science and technology journalist Gemma Milne, CENSIS Conversations is a new series of pre-recorded panel discussion 'vodcasts' (video podcasts), each bringing together a panel of experts with a member of the CENSIS team to discuss the challenges and benefits of using sensing, imaging and IoT technologies in their respective subject areas.
In this first series, we look at:
Each Conversation touches on innovation, engineering and technology through the eyes of developers, service providers and end users, exploring what is happening in the sector, challenges organisations and companies are facing, and how sensing, imaging and IoT can be, and are being, used to overcome technology barriers.
By bringing together diverse groups of people who share a common interest in the subject , we hope to offer some thought-provoking discussions that analyse subjects from different angles.
Follow the links about to find out more about each subject, and to discover how to watch each one.