21 December 2020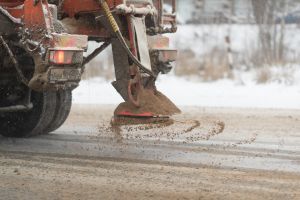 This story first appeared in the Herald, 21 December 2020
With support from CENSIS, East Renfrewshire Council has become one of the first local authorities in Scotland to use IoT to deploy a 'smart gritting' system, supporting the existing weather data used when deploying gritters and further improving safety for road users.
Robust, low-cost sensors have been installed on roads on the outskirts of Barrhead – an area prone to low surface temperatures – to measure the temperature of the road. That data can then be viewed by the Council using an IoT network, and used along with weather data already in place to target resources in areas most in need. Already, the sensors have been used over and above our specialist weather forecast information to better inform and change gritting priorities in real-time to improve public safety.
Data will be added to a mapping programme that will identify the roads most impacted by ice and frost. It will also inform a predictive model that will improve road safety and minimise travel disruption.
Environment Convener, Councillor Alan Lafferty, at East Renfrewshire Council, said: "The safety of road users and pedestrians is a high priority for East Renfrewshire Council and I am delighted to see this pilot get underway, helping us to further safeguard road users from the cold conditions we experience throughout the winter months. The information gathered from the sensors will support the existing data we receive through the West of Scotland Local Authority Weather Partnership. I look forward to working with CENSIS and seeing the pilot develop."
The project came about in part as a result of a workshop held by CENSIS and the Digital Office for Scottish Local Government in the Lighthouse, Glasgow last year. The 'Futuretech' event brought together academics, local authorities and others to discuss how best to design IoT into public services.
Stephen Milne, CENSIS Business Development Manager, said: "Our work with East Renfrewshire Council is a clear, tangible example of how the use of sensors and IoT technology can bring real benefits to people across Scotland. Although this is only an early iteration of using IoT in gritting operations, the information gleaned even from an initial trial will be used for years to come to make the process of gritting roads smarter, safer and easier."
Colin Birchenall, CTO at the Digital Office for Scottish Local Government, added: "The Internet of Things provides local government with the potential to design public services to become more targeted, proactive and preventative. This simple example demonstrates how sensors and IoT can create new sources of real-time data that can be used to improve outcomes. Together with CENSIS we will be working with local authorities across Scotland to pioneer innovative applications of IoT and to share the learning across Scotland."
Scotland's Connectivity Minister, Paul Wheelhouse MSP, said: "It's great to see sensor technology being used in a real-life application such as smart gritting, helping improve road services and safety across East Renfrewshire. This pilot clearly demonstrates the benefits of Internet of Things (IoT) and how it can be applied successfully to public services and design, and thanks to East Renfrewshire Council, CENSIS and the Digital Office for making this happen and wish the team behind the pilot every success.
"Through improved winter maintenance in real-time, and decreasing accidents in the local area, this smart gritting pilot is designed to act as a blueprint for other Councils, fostering better dialogue and sharing of expertise in public services, with IoT very much remaining at the forefront of future-proofed service design."