21 January 2021 | Jim Cockram, CENSIS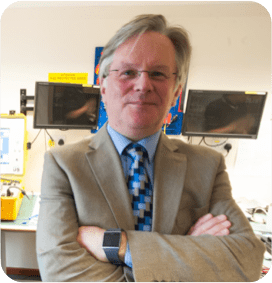 Hydrogen's rise and dissolvable electronics are among the technology trends to watch out for in 2021 
If this time last year you had predicted one of the most important technologies of 2020 would be video conferencing, you might well have raised a few eyebrows. But that is the nature of futurology – making predictions in normal circumstances is difficult enough, let alone in the exceptional ones we find ourselves today.
Yet, for all the upheaval that characterised the past 12 months, it has provided us with direction of travel and entrenched trends that will likely shape the years ahead – not least in terms of sustainability and a more central role for technology in business and wider society.
From a technological perspective, four trends in particular look set to play a growing prominence in 2021.
The rise of hydrogen
At the tail end of 2020, the Scottish Government announced its intention to make Scotland a world-leading hydrogen-fuelled nation. It committed £100 million over the next five years to support the energy source's role in helping Scotland transition towards a net zero economy by 2045 – the next 12 months will be the first step towards that aim.
The policy announcement formalised some of the forward-thinking projects involving hydrogen that were already taking place across the country. In Aberdeen, for example, the world's first hydrogen-powered double decker bus was unveiled earlier in 2020, while a retired train was transported to Bo'ness to be converted to hydrogen power and showcased at COP26 in Glasgow this November.
Hydrogen's potential applications go far beyond transport, though. There are a host of other initiatives underway, with Ofgem exploring the use of hydrogen blends in the gas network and the Michelin Innovation Parc also looking at potential applications. Meanwhile, there are early-stage explorations in areas such as the use of hydrogen to heat homes and as a replacement for battery technology for green energy storage.
Computing gets edgier
Edge computing has been a term used for years, but the Covid-19 pandemic has re-energised the topic. Edge computing, for those who have not come across it before, essentially refers to the processing of data at the point from which it has been sourced.
Using such an approach cuts out the need to use valuable bandwidth to transmit unnecessary data, while also reducing latency and allowing for faster response times.  This is particularly useful with the likes of camera systems in cities, where the sheer amount of data to be transferred to a central point from thousands of devices in a short timeframe could be onerous on infrastructure.
However, it also comes with complexity. Edge computing in self-driving vehicles, for example, would be required to contend with a potentially infinite number of scenarios – from the mundane task of driving on a motorway to responding to someone suddenly running out on to the road.
Edge capabilities are becoming more accessible as processing capability grows, and size and power requirements reduce. Inevitably, there is a trade-off to be struck between bandwidth and latency, depending on the response time required. In aviation, for instance, the detection of objects on a runway may require an immediate response from an aircraft's system – whereas temperature readings, which change very slowly, may be suitable for higher latency and low bandwidth.
Electronics go green
Electronics that disintegrate after use may sound far-fetched, but they are increasingly becoming reality. They are taking a number of forms, with printable plastics made from fish scales that form the basis of circuits and even dissolvable batteries.
This is great news for reducing the environmental impact of electronics and the use cases are likely to expand a great deal in 2021 – and beyond. Single-use electronics, such as pregnancy test kits, are one potential area and so too is smart labelling for perishable products, which could be designed to tell consumers when they were opened or when they may be beyond their useful life.
Similarly, fertilizer bags could be equipped to transmit a single-shot signal that indicates when they have been opened via a LoRaWan or Narrow-Band Internet of Things network for local farm suppliers. Companies, like Blue Spark Technologies, are creating thin film batteries that will underpin these types of applications without the waste that conventional batteries create.
Nevertheless, there are challenges to overcome, not least the development of suitable electronics that can send long-distance signals, the application of high-density electronics to natural materials, and the affordability of applying them to these products. There is still some way to go, but we may see biodegradable electronics begin to deliver IoT-based data in a more environmentally friendly way from 2021.
Digital twinning
Digital representations of physical tools, machines, and products have seldom been more important, especially more so with lockdown limiting travel and access for many people managing remote assets. This is what digital twins essentially are, bringing together different types of technology to help people understand, interact with, and improve different assets, products, and services.
One company working in this area is Integrated Environmental Solutions (IES), which is applying the use of digital twins to create online replicas of buildings and public spaces, helping organisations to visualise their data and ultimately reduce energy bills and cut carbon emissions based on their outputs.
Like edge computing, digital twinning is a theme that has been discussed before – but to some people it has become a buzzword that lacks meaning. But, 2021 could be the year that changes all that. There are lots of large organisations looking at digital twins and laying the foundations for greater adoption, driving standardisation and reducing the associated costs.