12 February 2021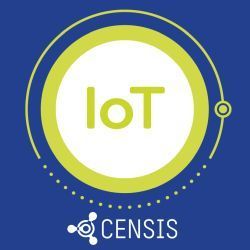 Aim HIE-er with support from CENSIS and Highlands and Islands Enterprise
In partnership with Highlands and Islands Enterprise, CENSIS is offering up to eight companies or individuals a package of consultancy and mentoring to explore an IoT-based challenge that aims to develop or improve a process, product or service in terms of quality, cost, operational efficiency or delivery.
The Internet of Things combines the power of the internet, data processing, communications networks, data analysis, and data visualisation with the real world of physical objects. It is created by lots of small sensing devices that, when connected together, can 'talk' to one another.
Businesses of all types can use sensing, imaging and IoT to gather real-time information to make decisions, support tasks, or learn from processes. Benefits can include optimising resources, improving safety and compliance, generating operational efficiencies, or even identifying new markets, products or business opportunities.
Important dates
The programme opened in January 2021 and closes on 31 May 2021.
Applications are reviewed on a first-come, first-served basis, and only eight spaces are available.
Who can apply?
Because of the way this programme is funded, this accelerator programme is open only to organisations or individuals based in the Highlands and Islands region of Scotland.
Within this region, applications are welcomed from:
Companies of any size with a challenge involving IoT – this can involve the development of an IoT-based product or service, or a need to incorporate IoT into a business in order to improve a product, process or service.
Individuals with strong ideas and concepts – while you may not be trading, you should have a well-planned, clearly thought through idea.
What markets can be supported?
CENSIS can support ideas applicable to any sector or market. Examples might include:
Precision agriculture and farming
Tourism
Energy use/energy efficiency
Healthcare, social care and/or assisted living
Transport and logistics
Manufacturing
Natural environment and environmental monitoring
Creating smart villages or towns
Facilities management and building monitoring
What's on offer?
Up to three days' advice from our team that includes industry-experienced engineers and business development managers.
What's the timeline?
The programme closes 31 May, so don't wait to apply. As soon as your application arrives, it'll be reviewed by CENSIS and HIE representatives. If it has potential, a support packages will be allocated, and CENSIS start working with you immediately.
Chat through your idea
If you want to talk to someone before submitting your idea, you can speak with a member of the CENSIS Business Development team prior to sending in your application. Email us and we'll set this up.
How do I apply?
Just complete the short application form. We've tried to make it as simple and straightforward as possible but if you've any questions just email us with the subject heading 'HIE IoT accelerator'.